Lot Content
Global notice
COVID-19 Important notice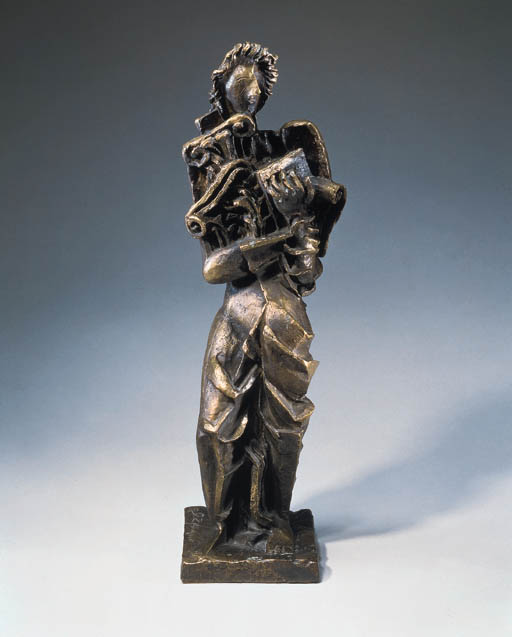 Ossip Zadkine (1890-1967)
Le messager (petit modèle)
Details
Ossip Zadkine (1890-1967)
Le messager (petit modèle)
inscribed with the artist's initials and the foundry mark, numbered and dated 'O. Zadkine 3/6 Susse Fondeur Paris' (on the back of the base)
bronze with golden brown patina
235/8in. (60cm.) high
Conceived in 1937 and cast by Susse Fondeur from 1965, this work is number five in an edition of six plus three artist's proofs

Provenance
Valentine Prax, Paris.
Acquired from the above by the present owner circa 1970-75.

Literature
Exh. cat. Museum Boymans-van-Beunigen, Rotterdam, Ossip Zadkine,
December 1949, no. 39 (another cast illustrated).
Exh. cat. Tate Gallery, London, Ossip Zadkine, January-April 1961, no. 52 (another cast).
Exh. cat. Musée Rodin and Musée d'Art Moderne, Paris,Ossip Zadkine, October 1972-January 1973, no. 31 (another cast, incorrectly dated 1938).
S. Lecombre, Ossip Zadkine: l'oeuvre sculpté, Paris 1994, no. 297 a (another cast illustrated p. 332).

Sale Room Notice
Please note that this work is number five from an edition of six and not number three as stated in the catalogue.

Lot Essay
The catalogue raisonné mentions the possible existence of three casts by Bisceglia prior to 1965.

;
More from

20th Century Art - Day Sale