Lot Content
Global notice
COVID-19 Important notice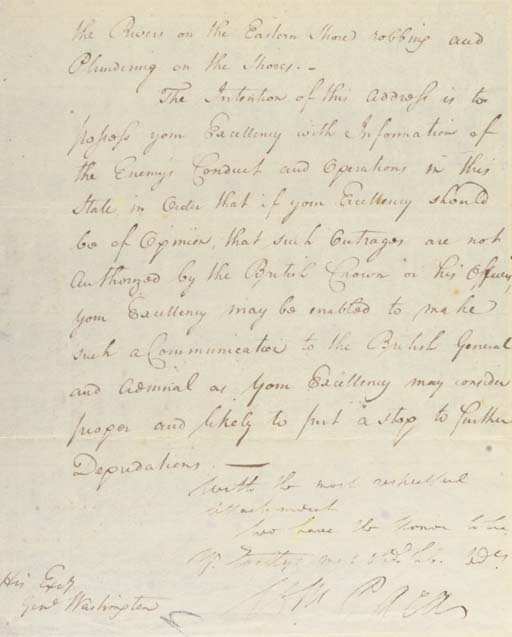 PACA, William (1740-1799), Signer (Maryland). Autograph letter signed ("Wm. Paca") as Governor of Maryland, to "His Exc[ellenc]y George Washington," Annapolis in Maryland, 21 February 1783. 3 pages, 4to, second sheet neatly inlaid, with recipient's docket partly in Washington's hand ("...from Gov. Paca...")
Details
PACA, William (1740-1799), Signer (Maryland). Autograph letter signed ("Wm. Paca") as Governor of Maryland, to "His Exc[ellenc]y George Washington," Annapolis in Maryland, 21 February 1783. 3 pages, 4to, second sheet neatly inlaid, with recipient's docket partly in Washington's hand ("...from Gov. Paca...")

PACA COMPLAINS TO WASHINGTON ABOUT BRITISH NAVAL DEPREDATIONS, WHILE ANXIOUSLY AWAITING NEWS OF A CEASE-FIRE

A superb war-date letter of Paca (whose letters are rare) reporting widespread depredations by armed British vessels in the Chesapeake, in spite of a rumored cease-fire pending the ratification of the Treaty of Paris: "From the letters which lately passed between your Excellency and General Carleton, and from the Speech of the British King to his Parliament on the 5th of December...there is some reason to think that Orders have been given by the British Crown, prohibiting Offensive Operations on the Continent. Under this Impression we beg Leave to inform your Excy. That if such Order were ever given, they have been most shamefully violated by the Enemy's Barges and Armed Vessels in the Bay of Chesapeake. There are now in the Bay Eleven Barges and one Sloop and two Schooners, which proceed in detached parties not only capturing our Vessels, but landing on our Shores and Wasting and Plundering the Property of the People of this State. On Tuesday last a party...went up Patuxent [River], plundered the town of Benedict, and burnt and destroyed the Dwelling House...of Mr. Benjamin Mackall with his Furniture, Meat, Tobacco, Corn and other Moveable property. Col. Plater was also plundered of some of his Negroes. Another Party...came as high up as Kent Point, nearly opposite to this City...The most of the Barges...make Excursions up the Rivers on the Eastern Shore robbing and plundering on the Shores."

"The Intention of this Address is to possess your Excellency with Information of the Enemy's Conduct and Operations in this State, in order that if your Excellency should be of opinion, that such Outrages are not Authorized by the British Crown or his Officers, your Excellency may be enabled to make such a communication to the British General and Admiral as proper and likely to put a stop to further Depredations."

While the Definitive Treaty of peace had been signed in Paris in September, and the British government officially proclaimed a cease-fire on 4 February, news of this took weeks in many cases to reach naval and military commands operating in North America. Thew residents of coastal areas remained under dire threat of British incursions until April when Congress officially passed a cease fire resolution and ratified the Treaty.

;
More from

The Forbes Collection of American Historical Documents: