Browse Lots
Global notice
COVID-19 Important notice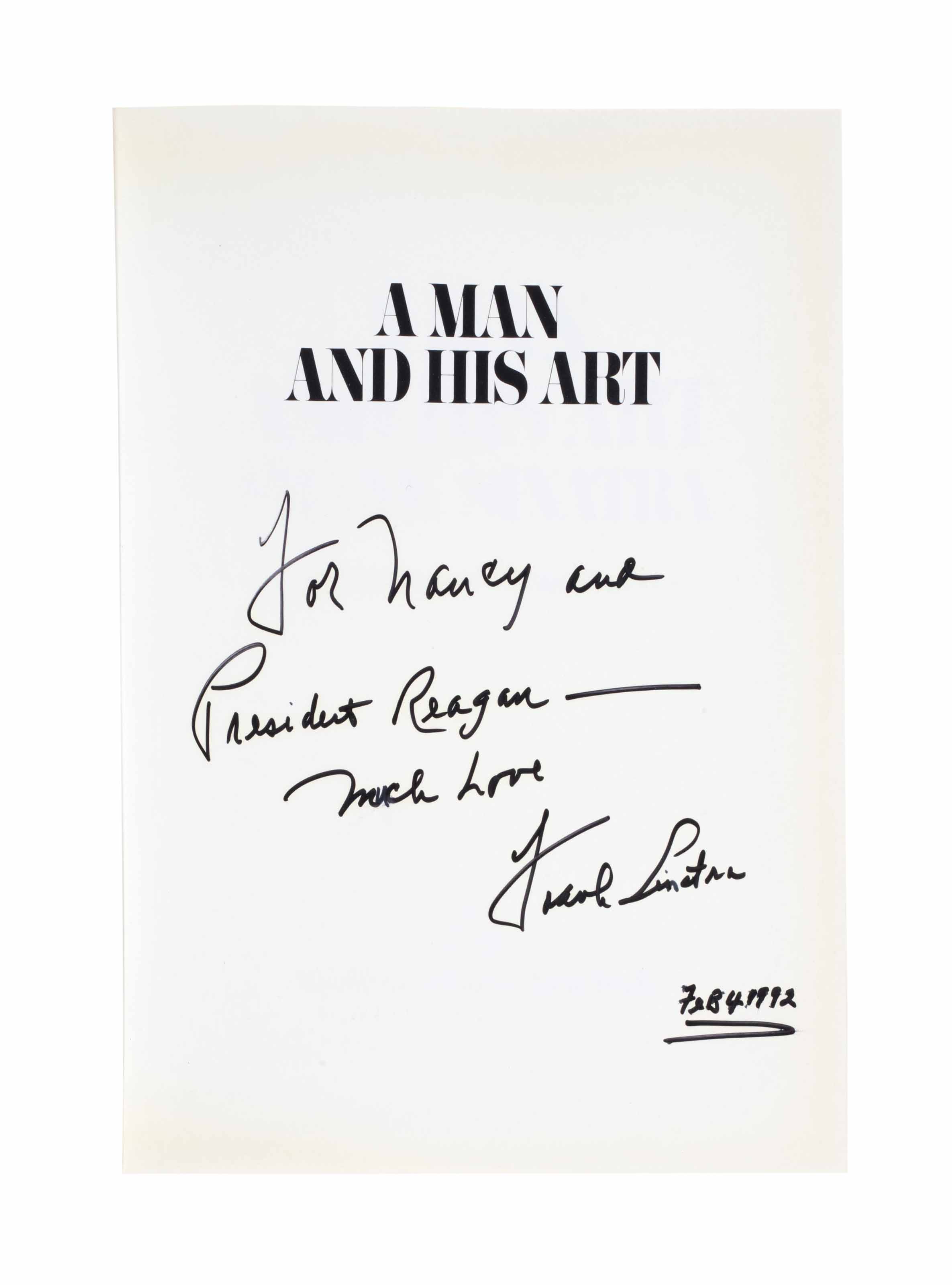 PRESIDENT AND MRS. RONALD REAGAN
Details
PRESIDENT AND MRS. RONALD REAGAN

SINATRA, Frank. A Man and His Art. New York: Random House, 1991. Numerous full-color reproductions of Sinatra's paintings. Original cloth; original pictorial dust-jacket.

FIRST EDITION, INSCRIBED BY SINATRA TO THE REAGANS: "For Nancy and President Reagan – Much Love Frank Sinatra. Feb. 4, 1992." Reagan enjoyed a warm friendship with Sinatra, whom he had known since the 1940s. Sinatra performed at numerous State dinners while Reagan was in office, and Reagan awarded Sinatra the Medal of Freedom in 1985. In a letter written by Reagan to Mr. Richard Neville in the fall of 1976, Reagan defends his old friend: "There is a less publicized side to Mr. Sinatra which in simple justice must be recognized. It is a side he has worked very hard to keep hidden and unpublicized. I know of no one who has done more in the field of charity that Frank Sinatra. His contributions to worthwhile causes are extremely generous…A few years ago a small town in the Midwest had suffered a terrible calamity; he went there on his own and staged a benefit to raise funds…While I was governor there would come to my attention cases where there was no suitable government program – I would call Frank as well as others of the same nature and they would organize a solution for the unfortunate people who needed help. Most of the time Frank would simply take it upon himself. Let me just finish by saying he would be very upset if he knew I'd told you these things." (Reagan: A Life in Letters, p.154).

Condition Report
If you wish to view the condition report of this lot, please sign in to your account.
Sign in
View condition report
More from

The Private Collection of President and Mrs. Ronald Reagan