Browse Lots
Global notice
COVID-19 Important notice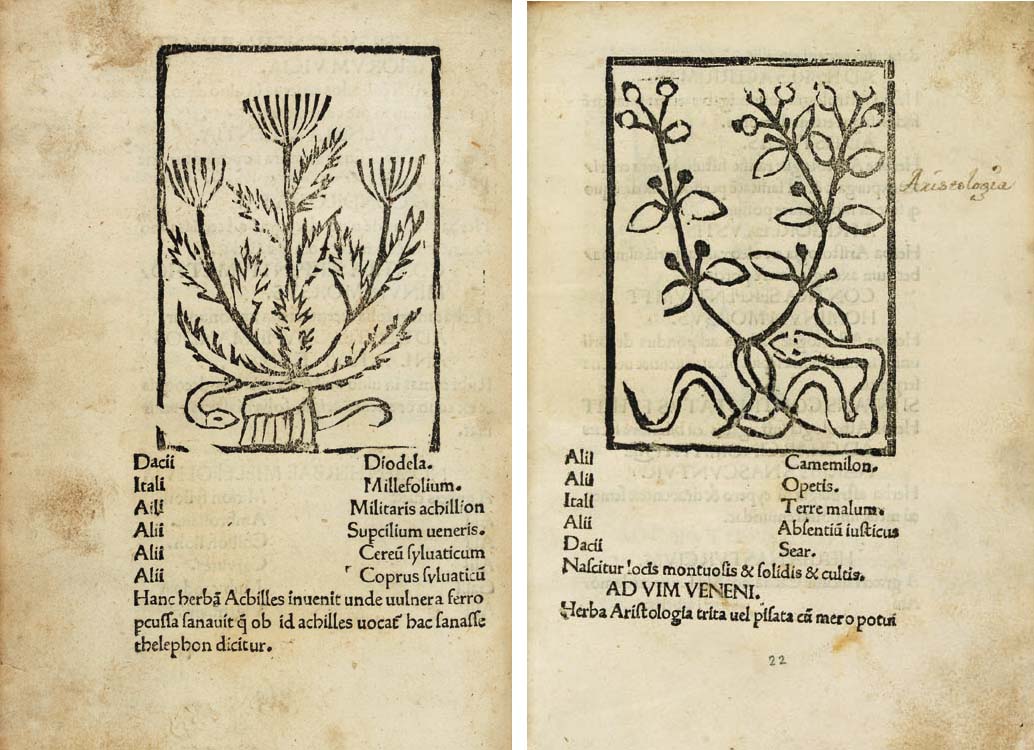 This lot will not be subject to VAT either on the … Read more
pseudo-APULEIUS PLATONICUS. Herbarium Apulei. [Rome:] Johannes Philippus de Lignamine, [c.1481-82].
Details
pseudo-APULEIUS PLATONICUS. Herbarium Apulei. [Rome:] Johannes Philippus de Lignamine, [c.1481-82].

Chancery 4° (200 x 140mm). Collation: [16 2-138 146] (1/1-6 dedication and table, 2/1r text, 14/5v register, 14/6 blank). 99 leaves (of 108, lacking first quire [of which one leaf blank], 2/8, and 14/1.6 [14/6 blank]). 25-27 lines. Type: 2:114R. Initial spaces opening dedication and text. Title within woodcut wreath on 2/1, 128 (of 131) woodcuts of plants, including repeats. (Tiny wormholes in first quire, stained with some resultant paper weakness, loss of a few letters on first leaf.) Early vellum over thin pasteboard (lightly soiled, endpapers renewed), modern red cloth solander box. Provenance: 18th-century annotations in Spanish (some washed) -- [Sotheby's, 29 July 1931, lot 355, £25.10 to Scheuer] -- Robert Honeyman IV (booklabel, notes, sale Sotheby's, 30 October 1978, lot 125, £7,000 to Quaritch).

FIRST EDITION OF THE FIRST PRINTED HERBAL. Written in about the 4th century, the Herbarium Apulei was 'one of the most widely used and most practical remedybooks' (Hunger) of the middle ages. It describes 131 plants, giving a multitude of prescriptions for maladies ranging from madness, paralysis, dysentery, fertility, stomach ache and ulcers, to antidotes for various poisons. As a practical handbook to the medicinal properties and uses of plants, it lists synonyms for each plant in Greek, Persian, Egyptian and other languages, and illustrates each one with a stylised woodcut, making this the EARLIEST SERIES OF PRINTED PLANT ILLUSTRATIONS. In fact, with the exception of two woodcuts of plants included in Konrad von Megenberg's Buch der Natur (eds. 1475, 1478, 1481), they are the earliest printed botanical illustrations of any kind. As visual reinforcement, snakes, scorpions and other venomous animals are depicted in the woodcuts of those plants which offer the relevant antidote.

In his dedicatory letter, Lignamine states that he used as his copy a manuscript found in the library of the Benedictine abbey at Monte Cassino. F.W.T. Hunger identified a 9th-century manuscript still at the monastery as Lignamine's source (codex Casinensis 97 saec.IX, cf. The Herbal of Pseudo-Apuleius, Leiden: 1935).

Over 60 manuscripts of the text survive. Of this first edition, probably only about 125 to 150 copies were printed. Lignamine, a well-connected diplomat as well as printer, actively sought patronage through his editions by dedicating them to the rich and powerful. The Herbarium illustrates this practice admirably as it is known in two issues, differing only in the dedication (missing here); one contains a dedicatory letter to Cardinal Francesco Gonzaga (1444-1483) and the other to Giuliano della Rovere (1443-1513, future Pope Julius II). Klebs further distinguished a third variant (to which he gave precedence) as copies issued without dedication or table (i.e. without the first quire), as the present Honeyman copy. A high proportion of surviving copies are indeed imperfect, but it is unlikely they represent a variant issue.

The authorship of the Herbarium is often attributed to Apuleius Barbarus or, as by Lignamine, to Apuleius, disciple of Plato; the name Apuleius may stem from the medieval association of Apuleius Madaurensis with the cult of Aesculapius (cf. L. E. Voigts, 'The significance of the name Apuleius to the Herbarium Apulei', Bulletin of the History of Medicine, 52, 1978, p.216).

Although the Herbarium was superseded by more extensive and up-to-date works in the 16th-century, the present volume shows continued use into the 18th century by a Spanish owner, who has annotated it with written descriptions of the plants to aid identification. He comments that two plants are 'mal pintada', which presumably indicates that he found the likeness in the remaining woodcuts sufficient. The Herbarium Apulei is rare on the market; the present Honeyman copy is the only one to have appeared at auction since an imperfect coloured copy sold in 1955. H *1322; BMC IV, 131 (IA.19267-8); BSB-Ink H-97; GW 3200; Klebs 505.1-3; Nissen 2298; Stillwell, Awakening, 401; Goff H-58.

Special Notice

This lot will not be subject to VAT either on the hammer price or the buyer's premium.
;
More from

VALUABLE ILLUMINATED MANUSCRIPTS,BOOKS AND AUTOGRAPH LETTERS