Lot Content
Global notice
COVID-19 Important notice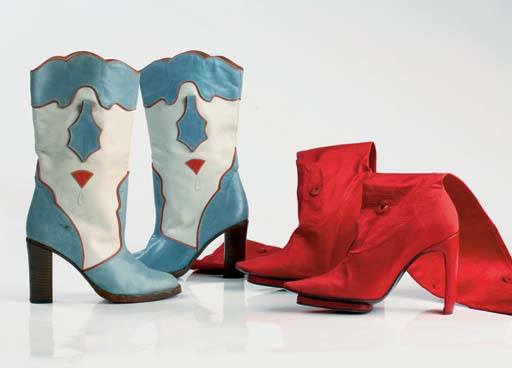 " + " : 19.0% VAT applies to both the hammer price… Read more
Red, white and blue cowgirl boots, 1976; and thigh-high red stretch fabric boots with disappearing platform soles, 2001
Details
Red, white and blue cowgirl boots, 1976; and thigh-high red stretch fabric boots with disappearing platform soles, 2001
Sizes 37 and 38 (2)

Special Notice

" + " : 19.0% VAT applies to both the hammer price and the buyer's premium and is calculated for each lot as 42.8% of the hammer price up to a value of €150,000 plus 33.28% of any amount in excess of €150,000.
Lot Essay
The thigh-high example is a unique pair, and never went into production.

More from

Jan Jansen, In his Shoes.