Lot Content
Global notice
COVID-19 Important notice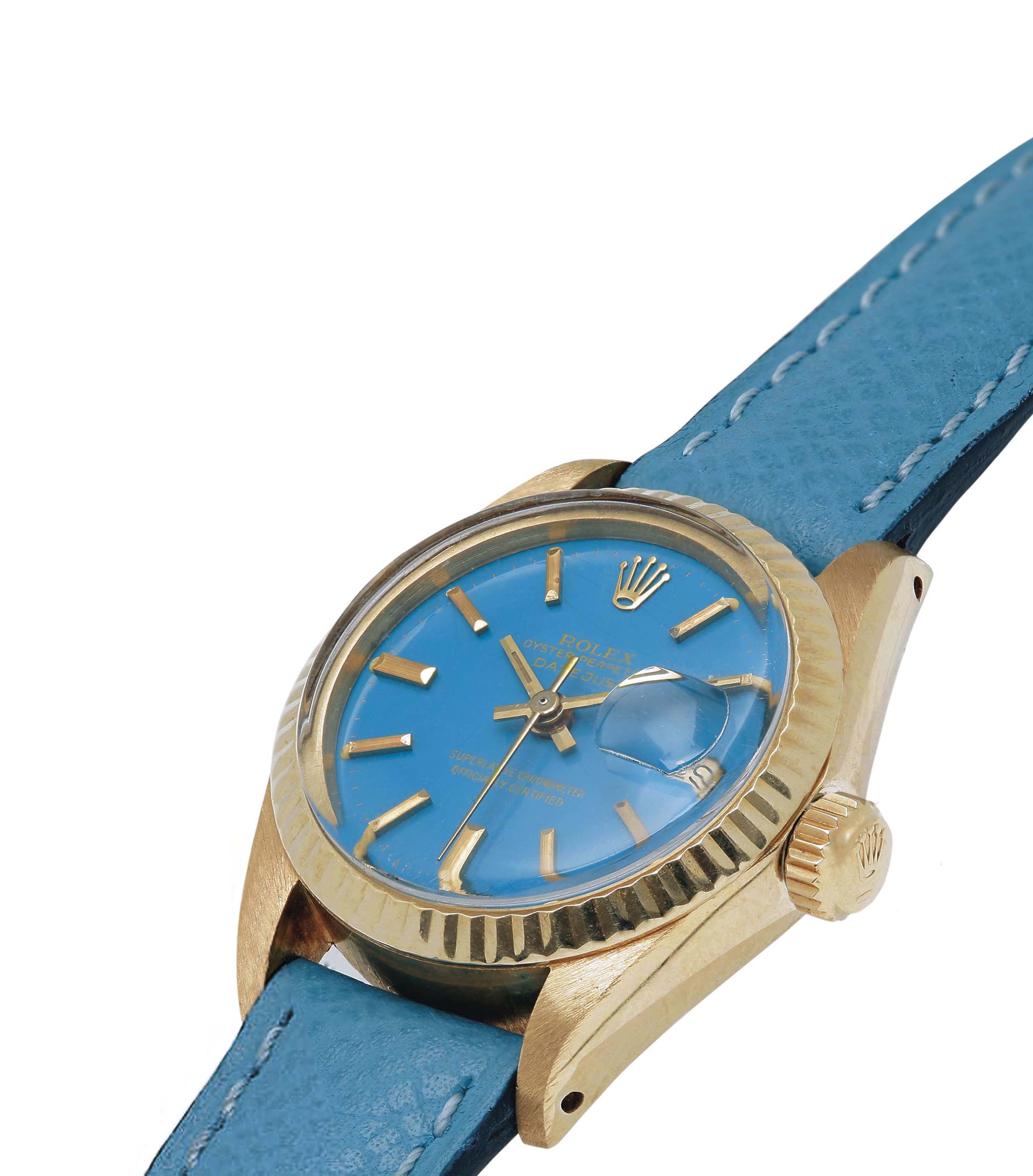 This lot is offered without reserve. Prospective b… Read more
ROLEX. A LADY'S 18K GOLD AUTOMATIC WRISTWATCH WITH SWEEP CENTRE SECONDS, DATE AND TURQUOISE DIAL SIGNED ROLEX, OYSTER PERPETUAL DATEJUST LADY, REF.6917, CASE NO.5'299'268, CIRCA 1977
Details
ROLEX. A LADY'S 18K GOLD AUTOMATIC WRISTWATCH WITH SWEEP CENTRE SECONDS, DATE AND TURQUOISE DIAL
SIGNED ROLEX, OYSTER PERPETUAL DATEJUST LADY, REF.6917, CASE NO.5'299'268, CIRCA 1977
Automatic jeweled lever movement, blue lacquer dial, applied baton numerals, sweep centre seconds, magnified aperture for date, tonneau-shaped water-resistant-type case, milled bezel, screw back, screw down crown, gold plated Rolex buckle, case, dial and movement signed
25mm. diam.

Special Notice

This lot is offered without reserve.
Prospective buyers should be aware the the importation of Rolex watches into the United States is highly restricted.These watches (not limited to Rolex) may not be shipped into the USA and can only be imported personally. Generally, a buyer may import only one watch into the USA. In this catalogue, these watches have been marked with a symbol. It is the buyer's responsibility to determine whether there are any import restrictions and to comply with such restrictions.The failure by Christie's to mark a lot with this symbol shall not constitute grounds to rescind or cancel a sale
Brought to you by
Check the condition report or get in touch for additional information about this
Condition Report
If you wish to view the condition report of this lot, please sign in to your account.
Sign in
View condition report
More from

Important Watches