Lot Content
COVID-19 Important notice
Read More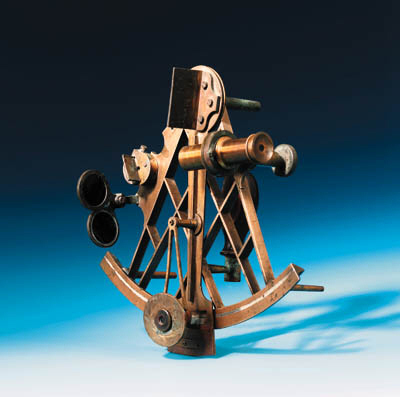 Sir Ernest Henry Shackleton (1874-1922)
A late 19th-century English vernier sextant, the brass lattice frame signed on the arc Dollond London, the inset silver scale graduated 150°-0°-5°, the index arm with tangent screw, clamp adjustment, inset silver vernier scale graduated 15°-0°, and swivel-arm magnifier, 2 (?of 3) shades, 2 mirror-mounts, and one telescope (?of 2) with screw-on shade eyepiece, mahogany handle (lacking mirrors and a few screws, handle chipped), mahogany case with printed trade label of WM. WE[?]TCHERT, CARDIFF (label torn, case defective) -- sextant 23.5cm. high
Details
Sir Ernest Henry Shackleton (1874-1922) A late 19th-century English vernier sextant, the brass lattice frame signed on the arc Dollond London, the inset silver scale graduated 150°-0°-5°, the index arm with tangent screw, clamp adjustment, inset silver vernier scale graduated 15°-0°, and swivel-arm magnifier, 2 (?of 3) shades, 2 mirror-mounts, and one telescope (?of 2) with screw-on shade eyepiece, mahogany handle (lacking mirrors and a few screws, handle chipped), mahogany case with printed trade label of WM. WE[?]TCHERT, CARDIFF (label torn, case defective) -- sextant 23.5cm. high Possibly purchased by Shackleton in Cardiff in June 1891, prior to his second voyage on the Hoghton Tower on 25 June 1891. Following his voyage on the Hoghton Tower between April 1890 and April 1891 (during which Shackleton gained his first maritime experience), his father indentured him as an apprentice to the North-Western Shipping company in June 1891, and on 25 June 1891 Shackleton embarked from Cardiff on the Hoghton Tower for his second voyage. A sextant such as this example by the well-established maker Dollond of London, would have been an essential piece of equipment for any apprentice seaman intent on a naval career, and it is possible that Shackleton acquired it in Cardiff, prior to sailing. Shackleton's friend and biographer, Hugh Robert Mill, recorded that Dr. Shackleton had 'sent out a sextant and other instruments to meet the returning Monmouthshire in April [1895], but the parcel arrived empty.' (H.R. Mill, The Life of Sir Ernest Shackleton, London, 1923, p.47) which may suggest that the then third mate had not previously had his own sextant. Although sextants often relied on artificial (liquid) horizons and therefore had shortcomings in freezing Antarctic conditions, they remained a key instrument for getting their latitude, and Shackleton would certainly have owned and taken several on his four Antarctic expeditions. It is not known whether the present sextant was with Shackleton on his famous Endurance expedition. Worsley used the sextant belonging to Hudson, the navigating officer of the Endurance, on the James Caird for the legendary boat journey from Elephant Island to South Georgia ('I found it more convenient for use in the boat than my own', F.A. Worsley, Shackleton's Boat Journey, 1999 edition, p.112). This latter instrument, made by Heath's, was loaned by Commander Hudson for the British Polar Exhibition in London in 1930 (no.87 'Shackleton's Sextant, used on boat journey from Elephant Island to South Georgia) and is currently included in the exhibition touring in the United States (The Endurance, Shackelton's Legendary Antarctic Expedition, 1999-2000). See also H. McGregor Dunnett, Shackleton's Boat, Cranbrook, 1996, p.82 (illustrated).
Provenance
Sir Ernest Henry Shackleton (1874-1922).
Lord Shackleton, his son, by whom given to
Leslie George Sibley, Birley (a friend and political sponsor of Lord Shackleton), and by descent to the present owner.

;
More From

Travel & Exploration