Lot Content
Global notice
COVID-19 Important notice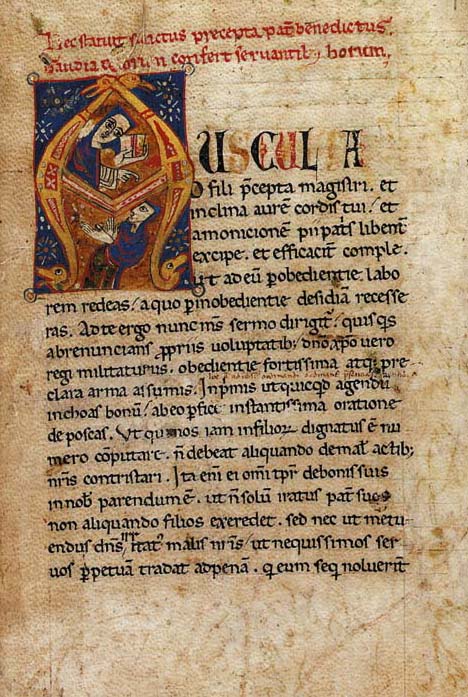 No VAT will be charged on the hammer price, but VA… Read more
ST BENEDICT (c.480-c.550). Regula, in Latin. Calendar and obituary of the Benedictine abbey of St Mary at Vangadizza, in Latin, ILLUMINATED MANUSCRIPT ON VELLUM
Details
ST BENEDICT (c.480-c.550). Regula, in Latin. Calendar and obituary of the Benedictine abbey of St Mary at Vangadizza, in Latin, ILLUMINATED MANUSCRIPT ON VELLUM

[northern Italy, third quarter 12th century]
202 x 145mm. 80 leaves: 19(iii a singleton), 26, 37(v a singleton), 47(iii a singleton), 57(iii a singleton), 66, 77(iii a singleton), 8-96, 1010, 116, 123, modern pencilled foliation, quires 1-9 signed A-I in lower margin on first rectos, traces of horizontal catchwords on last versos, varying number of lines, the Rule with 16 to 27 lines written in brown or black ink by a number of hands in round well-spaced late caroline script between two verticals and on 16-27 horizontals ruled in blind, justification: approximately 150 x 100 mm, titles in red, the calendar with eight or nine lines of text in a hand contemporary with the Rule written in red or black ink between two vertical lines and at intervals of three lines on 28 or 29 horizontal lines ruled in blind, justification: 165 x 105mm, prickings visible in the outer margins of most leaves, chapter titles and calendar rubrics in red, chapter initials in red, section initials in red or blue, LARGE HISTORIATED INITIAL A in red, ochre, blue and green depicting St Benedict handing his rule to another monk (f.1), LARGE DECORATED INITIAL M formed of two birds in liquid gold, red, green and blue (f.4), contemporary corrections to text, later glosses to margins, contemporary and later additions to calendar (margins of folios 25 and 58 replaced with modern vellum, some darkening and staining, natural flaws to a number of leaves). Later vellum over pasteboard.

PROVENANCE:

1. Copied at St Mary of Vangadizza for use there
2. Jo. Petr. Leilius: erased 17th-century inscription on f.1; other erased inscriptions on ff. 5, 22v, 65v
3. Cassano library: later note on pastedown
4. Sir Thomas Phillipps, Ms 24784 (olim 2770): inkstamp on flyleaf; sold to
5. William H. Robinson Ltd: bookplate, catalogue cutting laid in

CONTENT:

Rule of St Benedict ff.1-58v; Promissio novicii f.58v, decrees of Pope Pascal II and Emperors Charles and Lothar against alienating the goods of a church or monastery f.59, document of A. bishop of Rimini [Albericus, bishop 1158-1177] addressed to the prior and community of Vangadizza on the death of abbot Liutaldus, added f.60r&v, instructions for calendar calculations, added ff.60v-61v; calendar and obituary ff.62-80, liturgical instructions for observing the anniversary of the death of Martin, first abbot of the monastery f. 80v

The combination of the rule and obituary in a single codex was common in medieval monastic houses, for this meant that two of the monastery's most important documents were united in the same location. Such manuscripts are particularly important as witnesses to the details of monastic observance and liturgical commemoration in the communities from which they come. They also serve to document the personnel and benefactors of each community, often over a considerable period of time as the names of these individuals and their dates of death were recorded in the calendar.

The Benedictine abbey of St Mary at Vangadizza, in the diocese of Adria, was founded in the mid-10th century. Martin, its first abbot, is attested in documents of the year 961, and in 1123 under abbot Liutaldus its rights and properties were confirmed by Pope Calixtus II. In 1213 the monastery was affiliated with the Camaldolese order, and it was suppressed in 1808. The present manuscript was copied in the 12th century, after the death of Abbot Liutaldus and probably before 1184.

The first section of the codex, containing the Rule, makes a curious impression paleographically. Constant variation in the script, ink and layout, difficulties in fitting the copy, and numerous contemporary corrections indicate that this text was copied in short sections, a bifolium or a leaf at a time, by a number of different hands, perhaps novices or apprentice scribes. Although the manuscript is an uneven production codicologically, these irregularities contrast with the careful, even elegant, script of most of the writers. That such a manuscript was finished by the rubricator and retained for use is perhaps an indication that the 12th-century monastery was relatively poor.

The calendar, which is both an ecclesiastical calendar and an obituary, includes entries in the original hand for Martin, the first abbot of Vangadizza, for Amelricus, his wife Franca, Hubert and Hugo, early benefactors of the monastery, and for abbot Liutaldus. Liutaldus, who was alive in 1123, presumably died after 1158 when Albericus became bishop of Rimini (cf. f.60). A large number of entries naming other benefactors, abbots, monks, lay brothers and lay sisters was evidently copied at an early date from another obituary list into this one. Some of these entries refer to dates earlier than the composition of the present manuscript, most notably the feast (July 1) and translation (August 2) of St Theobald, the local saint whose remains were deposited in the abbey church in 1074. Additional individual entries were made in the calendar until the beginning of the 16th century. Most of these are undated, but they include Albertus marchio 1184 (April 11), which provides a terminus ante quem for the production of the manuscript.

Special Notice

No VAT will be charged on the hammer price, but VAT at 17.5% will be added to the buyer's premium which is invoiced on a VAT inclusive basis.
;
More from

THE LIBRARY OF WILLIAM FOYLE