Lot Content
COVID-19 Important notice
Read More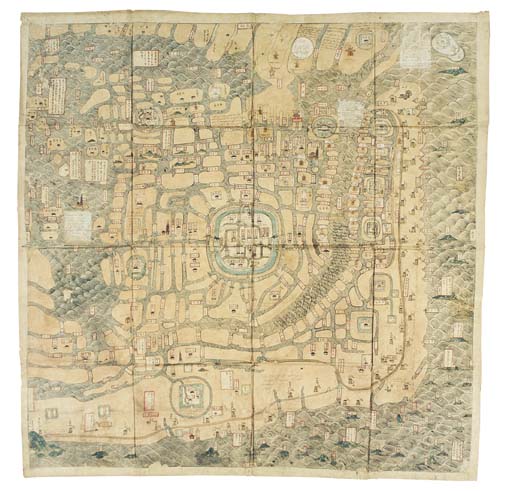 No VAT on hammer price or buyer's premium.
SUNGCHIANG PREFECTURE AND SHANGHAI
Details
SUNGCHIANG PREFECTURE AND SHANGHAI Chinese map of the Sungchiang Prefecture with the addition of church symbols and Latin annotations by Father Francesco Brancati (1607-1671), later title slip loosely inserted, 'Mappa Christianitatis duarum urbium in provincia Nankinensi ubi supra 100 ecclesiae numerantur et supra 60 millia Christianorum'. [Sungchiang and Shanghai: c.1656-1661]. Manuscript map of the region around the city of Sungchiang in the lower Yangtze delta, together with its satellite cities including Shanghai (scale approx. 1:50,000), ink and colours on Chinese paper backed with layers of paper and strengthened borders, 1340 x 1390mm. The Chinese map showing the delta of the Yangtze, incorporating pictoral hills, canals, tributaries, ponds, bridges and principal routes, seas and rivers depicted in traditional wave patterns, numerous coastal forts and watch towers drawn along the South China Sea shoreline, cities defined by city walls, temples, gates and named dwellings, seas in grey/blue, with numerous named islands in blue/green, land in pink, red edged name boxes, buildings and bridges heightened in white. Over this Chinese base map has been added a series of crosses, sometimes in red, denoting churches, most extending along the road from Shanghai to Sungchiang, each named, some with longer descriptions noting families and their status as Christians. (Some surface wear, particularly to margins and along folds, old staining and creasing.) Modern cloth box. Provenance Francesco Brancati; Jesuit Collège de Clermont (sold at auction 1764); Gerard Meerman; Sir Thomas Phillipps (inscription 'Ex Bibl. Meerman [lot] 1091); Philip Robinson (sale Sotheby's 22 November 1988). A very important 17th Century Chinese map, a combination of a local administrative map with a Jesuit report on the state of Christianity in the Sungchiang region. Research by Noel Golvers of the F. Verbiest Foundation Leuven on this map (published in Imago Mundi vol. 52, 2000, pp30-42) has clarified various features of this map. The Latin annotations are attributed to Father Francesco Brancati, who arrived in Shanghai in 1639, and set about the process of bringing Christianity to the Chinese. The Jesuit presence in Chiang-nan province and in the Sungchiang Prefecture was a showpiece of the Jesuit mission to China in the 17th Century. This pictorial report on the state of Christianisation in the region may well have been generated by the arrival, in 1660 of Francois de Rougemont (1624-1676). De Rougemont arrived in Macao at the end of 1658, was in Hangchou 1659 and Shanghai 1660, where he worked with Brancati until July 1661. Perhaps Brancati and de Rougemont together plotted this map, which Bracati had acquired from local sources. The Chinese map can be dated to no later than 1656, as the map names the Lou-hsien district, which was only established as a separate district in 1656. This map appears to have remained in China after Brancati's death in 1671, when his successor Philippe Couplet (1623-1693) took over. Couplet, in the early 1680s returned to France, taking with him the entire Jesuit library of 316 volumes and various manuscripts, which he planned to publish on his return to Europe. Couplet remained in the Jesuit colleges of Paris for two years (1686-1687). In a letter he wrote from Paris to Father Daniel Papebrochius in Antwerp, he refers to a great map with up to date and highly detailed information on the churches of the province. The title slip with this map was probably added to copy in Paris in the late 17th Century. Exhibited: Chinese and Japanese Maps, C20, British Library, 1974.
Special Notice

No VAT on hammer price or buyer's premium.
;
More From

EXPLORATION AND TRAVEL: ASIA