Overview
COVID-19 Important notice
Read More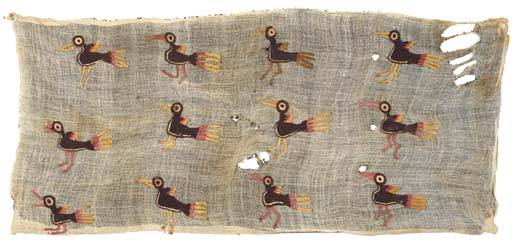 COLLECTION D'UN GRAND AMATEUR
TEXTILE
CÔTE CENTRALE, ENV. 600-900 APRÈS J.C.
Details
TEXTILE Côte Centrale, env. 600-900 après J.C. Pièce de textile composée d'une longue bande rectangulaire en gaze de coton sur laquelle sont cousus d'origine douze oiseaux stylisés aux grands yeux ronds, longs becs et grandes queues à frange et tissés en laine de couleurs marron, beige, rouge et jaune. Dimensions: 130 x 58 pour la gaze et de 12 à 16 cm de hauteur pour les oiseaux
Post Lot Text
CENTRAL COAST TEXTILE WITH BIRDS
CA. A.D. 600-900
Lot Essay
Voir Ancient Arts of the Andes, fig. 107 et The Maremont Collection, fig. 132.

;
More From

ART PRECOLOMBIEN