Lot Content
Global notice
COVID-19 Important notice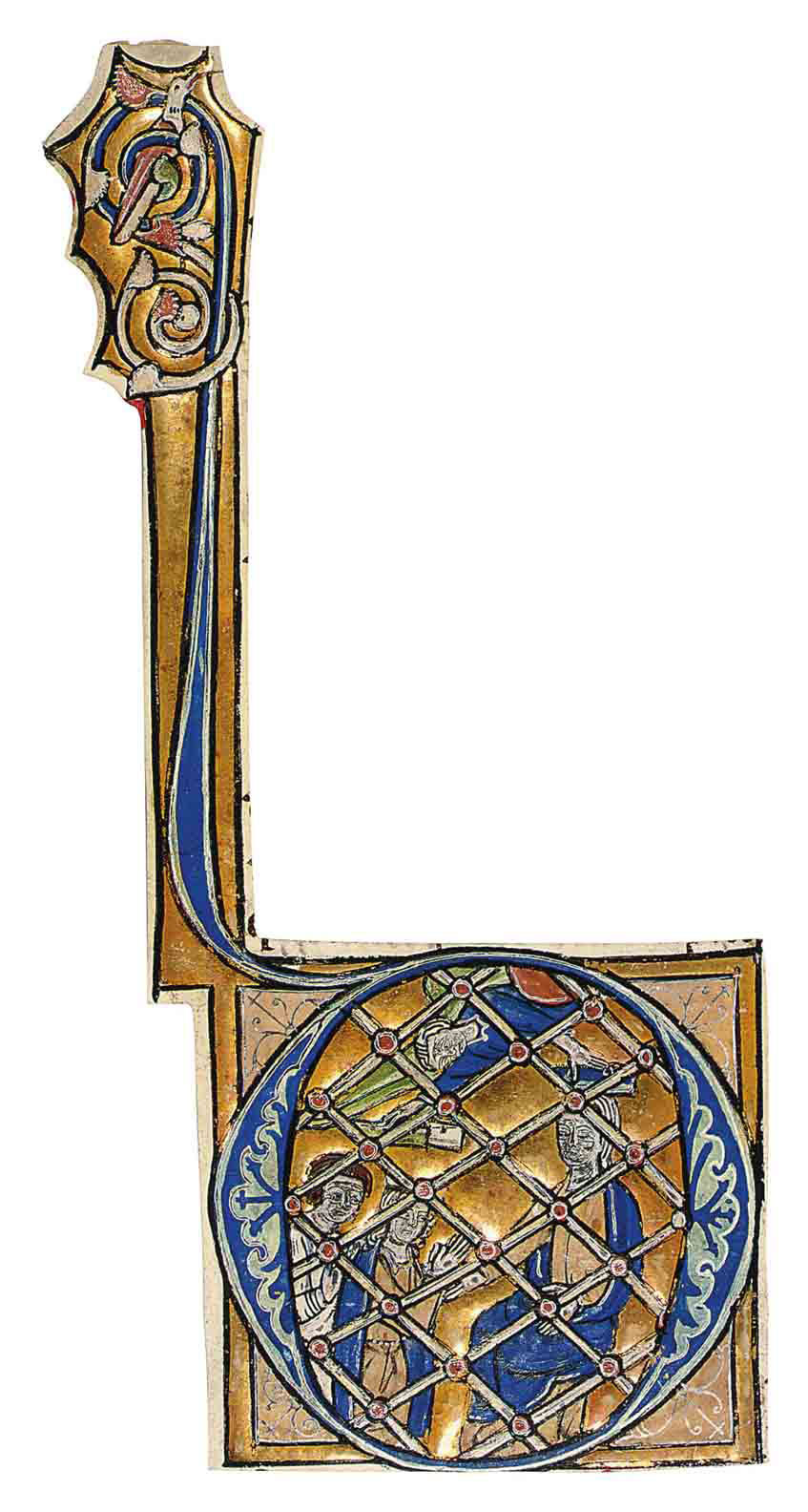 VAT rate of 5% is payable on hammer price and at 2… Read more
THE CONVERSION OF THE EMPRESS FAUSTINA AND PORPHYRIUS, CAPTAIN OF THE GUARD, DURING THEIR VISIT TO ST CATHERINE IN PRISON, historiated initial 'D' cut from a Psalter-Hours, ILLUMINATED MANUSCRIPT ON VELLUM
Details
THE CONVERSION OF THE EMPRESS FAUSTINA AND PORPHYRIUS, CAPTAIN OF THE GUARD, DURING THEIR VISIT TO ST CATHERINE IN PRISON, historiated initial 'D' cut from a Psalter-Hours, ILLUMINATED MANUSCRIPT ON VELLUM
[Meuse Region, possibly Liège, 1265-1275]
147 x 57mm overall. Behind lattice bars Porphyrius and the Empress Faustina kneel in prayer before a tall, seated St Catherine, all three appearing to be crowned by a swooping angel above. The initial of burnished gold and blue with fine white tracery on a ground of pink with white filigree, the ascender terminating in foliate scrolls inhabited by a white and red bird, the reverse with nine lines of text in brown ink in a gothic bookhand, rubric in red and blue with red penwork extending into margin, two other initials in red and blue (slight oxidisation to white, lightly rubbed).

A UNIQUE INITIAL FROM THE ONLY KNOWN CATHERINE CYCLE MARKING THE DIVISIONS OF A PSALTER. The text on the verso is from Psalm 53, the first visible line containing part of line 3: "[Deus in] nomine salvum", indicating that the initial marks the first letter of Psalm 52, 'Dixit insipiens in corde suo: non est Deus', a Psalm usually illustrated with a Fool. The subject of the present illustration is consequently particularly individual, and has only recently been linked by W. M. Voelkle ('More Medieval Alphabet Soup: Another unique Catherine Initial from the Mosan Psalter-Hours' in Tributes to Lucy Freeman Sandler: Studies in Illuminated Manuscripts, 2007, pp.63-65) to the remains of a thirteenth-century Mosan Psalter-Hours reconstructed by J. Oliver ('Medieval Alphabet Soup: Reconstruction of a Mosan Psalter-Hours in Philadelphia and Oxford and the Cult of St Catherine', Gesta, 24, 1985, pp.129-140). The cult of St Catherine was particularly strong in the Rhineland and Mosan region of eastern Belgium. The present scene, with Catherine, the Empress and Porphyrius receiving their martyrs' crowns from an angel is a unique iconographical survival. The Psalter, Oliver argues, was likely made for a Beguine, possibly named Catherine.

Special Notice

VAT rate of 5% is payable on hammer price and at 20% on the buyer's premium.
Brought to you by
Check the condition report or get in touch for additional information about this
Condition Report
If you wish to view the condition report of this lot, please sign in to your account.
Sign in
View condition report
More from

The Arcana Collection: Exceptional Illuminated Manuscripts, Part III