Browse Lots
Global notice
COVID-19 Important notice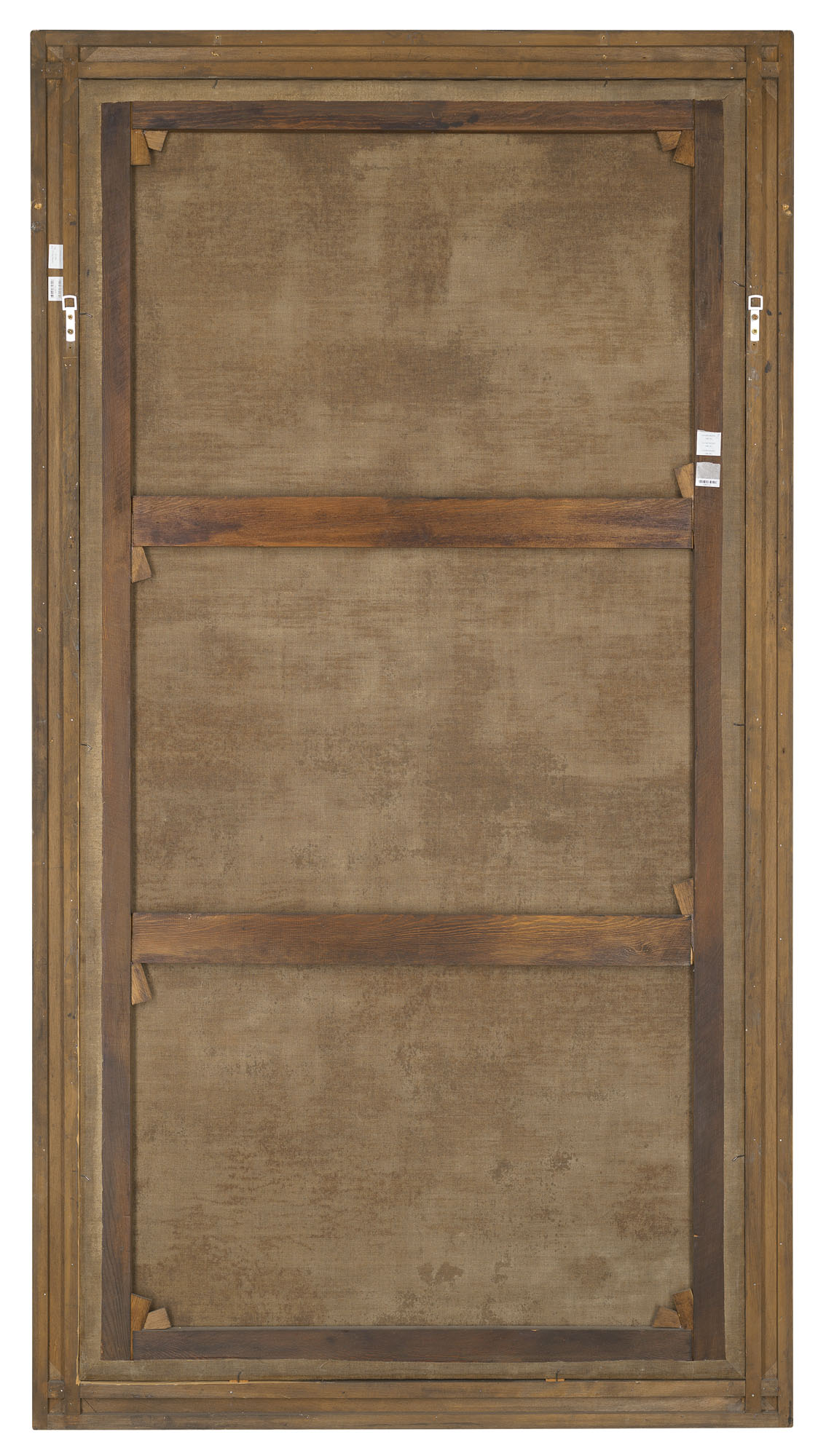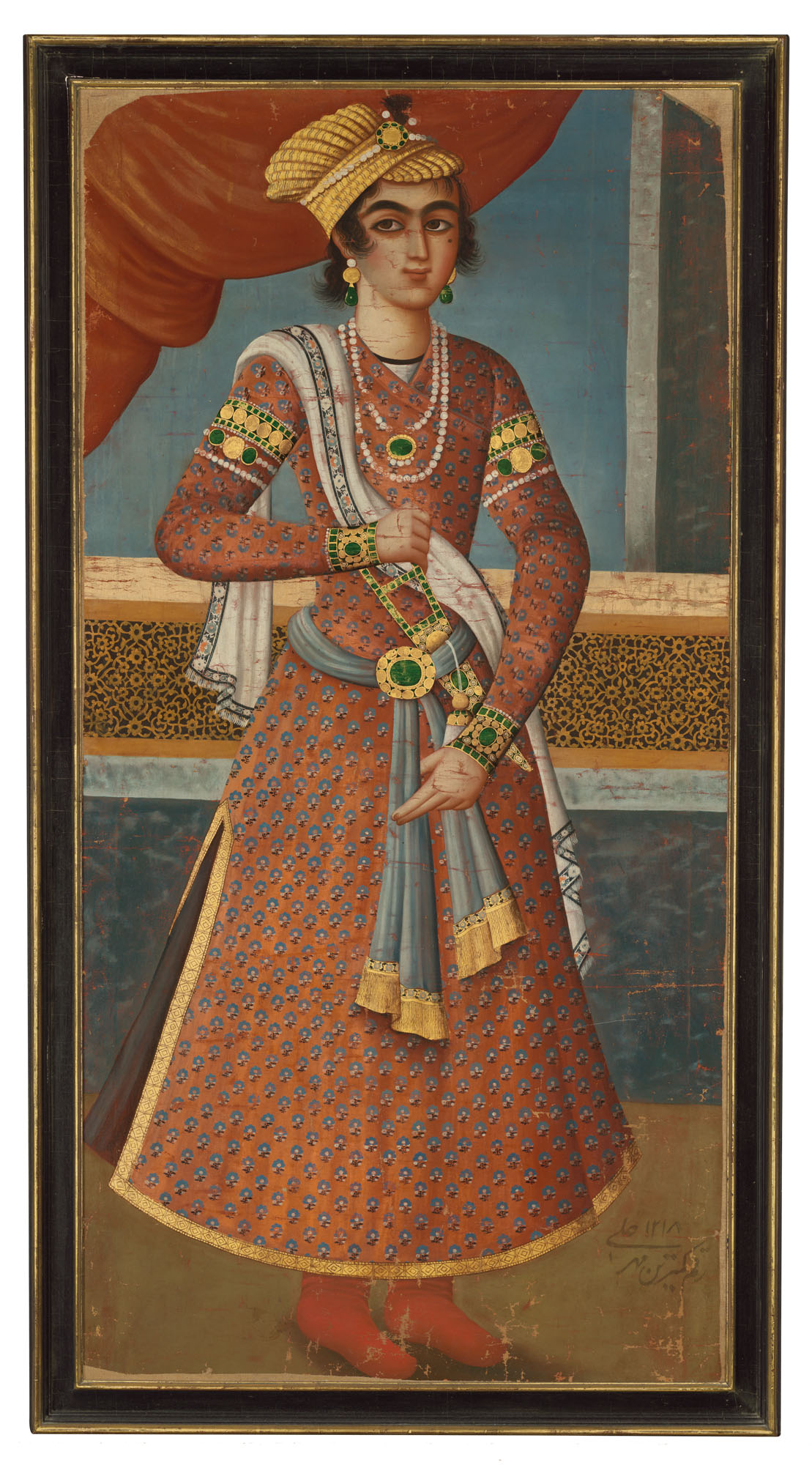 These lots have been imported from outside of the … Read more
TWO QAJAR PORTRAITS PAINTED FOR THE IMARAT-I SADR, ISFAHANHajji Muhammad Husayn Khan (1758-1823) was a native of Isfahan and came originally from a family of vegetable sellers. Beginning his career as a warehouse manager, he rose through various titles to end up as governor of the cities of Isfahan, Qum, and Kashan, with the title Amin al-Dawla and eventually Sadr-i `Azam (Heidi Walcher, Face of the Seven Spheres: The Urban Morphology and Architecture of Nineteenth Century Isfahan (Part Two), Iranian Studies, vol.34, nos.1-4, pp.117-139, esp. pp.117-19). More than anybody else it was he who was responsible for the renovation of this historic city in the early Qajar period. He restored many of the Safavid buildings while also building new streets, gardens, and palaces. One of the new buildings that was most remarked on was the Imarat-i Sadr or Imarat-i Naw. While sometimes under a different name, it was commented on as an outstanding example of contemporary architecture and decoration by most of the early European travelers who visited the city, including James Morier in 1809 (James Justinian Morier, A Journey through Persia, Armenia, and Asia Minor, to Constantinople, in the Years 1808 and 1809, London, 1812, p.167), Sir William Ouseley in 1810-12 (Sir Wlliam Gore Ouseley, Travels in various countries of the East, more particularly Persia, London, vol.III, 1823, pp.26-27), and Charles Texier in 1839 (Charles Texier, Description de l'Arménie et de la Perse, de la Mésopotamie, Paris, 1842, pp.128-129).The palace was built by Muhammad Husayn Khan very shortly after Fath `Ali Shah had come to the throne, as part of a new dynasty that had only very recently taken control over the whole country. The palace, when finished, was given as an offering to this new monarch, encouraging him to visit the city. While Fath `Ali Shah is not known to have taken possession, much of the interior was clearly decorated to enhance this vain ruler's prestige. All three European authors comment on the extraordinary pictorial program of the palace. The main room had at its ends two massive depictions of the monarch, one enthroned, the other out hunting. These were surrounded by depictions of rulers of the past, both historical and from the Shahnama. Morier refers to Jamshid, Chinghiz Khan and Timur; Ouseley notes Feridun, Iskandar and Anushirwan; Texier cites Jamshid, Afrasiyab, Genghis Khan and 'Shah Djihoun'. In addition to detailing some of the subjects, Ouseley also notes that the artist was the 'celebrated artist' Mihr `Ali. The patron must have invited this favoured court artist from his home city of Tehran to complete the cycle, further honouring the shah.The palace, having not been used by the shah, was allowed during the ensuing century to fall into disrepair, and was then demolished in the early 20th century under the orders of Zill al-Sultan, Mas`ud Mirza, the eldest son of Nasir al-Din Shah who was the governor of Isfahan 1874-1906, a sad process described in detail by Majd al-Islam (Ahmad Majid al-Islami Kirmani, Tarikh-i inqilab-i mashrutiyat-i Iran, 1967, p.131, noted by Willem Floor, 'The Talar-i Tavila or Hall of Stables, a Forgotten Safavid Palace', Muqarnas: An Annual on the Visual Culture of the Islamic World, XIX, 2002, pp.149-163 esp.note 67, p.163). For many decades nothing was known or recorded about the paintings that decorated the interior and it was thought that they were lost. However in 1985 two appeared for sale at Christie's. Depicting Anushirwan and Chinghiz Khan, two figures cited by the 19th century authorities, each identified and signed by Mihr `Ali, exactly as noted by Ouseley, these had to have been a part of this renowned commission (Christie's London, Islamic, Indian and South-East Asian Manuscripts, Miniatures and Works of Art, 4 July 1985, lots 197 and 198; sold again Christie's London, Islamic Art and Indian Miniatures, 20 October 1992, lots 289 and 290). Since then a further painting from the same series has appeared, somewhat reduced and now lacking the signature, but clearly identified as Kay Khusraw and of the same format (Christie's London, Islamic Art and Indian Miniatures, 14 October 1997, lot 160; sold again Christie's London, Art of the Islamic and Indian Worlds, 17 April 2007, lot 287), while a fourth example appeared at Sotheby's more recently, identified as Jamshid (Sotheby's London, Arts of the Islamic World, 7 October 2015, lot 300). When the two paintings of Anushirwan and Chingiz Khan were exhibited in London in 1999, Julian Raby suggested that the name noted by Texier as 'Shah Djihoun' should probably be interpreted as the 15th century Qaraquyunlu ruler Jahanshah (Julian Raby, Qajar Portraits, London and New York, 1999, nos.115 and 116, pp.49-51). Although he does not immediately spring to mind as one of the heroes of Iranian popular history, there seemed to be no other Iranian candidate with this name. Similarly, when the portrait of Farrukh Siyar was sold previously, its Indian subject and the lack of a date alongside the signature meant that the link was not made with the Imarat-i Sadr project. The image of Shah Jahan however clearly bears the same date as the larger Persian portraits and both have a very similar band below the window aperture. The note that 'Shah Djihoun' was part of the commission confirms that there was clearly a second sub-series commissioned for the palace, on a slightly smaller scale, from the same artist, depicting the Mughal monarchs.By this time within India the images of the Mughal emperors had become completely standardized, reproduced many times, either as individual one-off portraits, as series of individual paintings depicting the various Mughal rulers, or as group ancestral portraits. Shah Jahan is a well-known icon, invariably depicted in profile with a chisel-like beard that greys as he ages. In our paintings there is no attempt at all to copy any likeness, despite that it must have been relatively simple to obtain one. Rather, the Mughal emperors are depicted as young, inexperienced and beardless, attractive young men. Is this a later Persian reversal of the famous Indian depiction of Jahangir being subtly much more powerful than Shah `Abbas? (Freer Gallery, now the National Gallery of Asian Art, Washington DC, inv.nos. F1942.16a and particularly F1945.9a. https://asia.si.edu/object/F1945.9a/) In the intervening decades Nadir Shah had conquered Delhi, demonstrating the weakness of Mughal power, and brought back the Mughal treasury to Isfahan, as well as a Mughal taste that began to pervade Iranian design in the 18th century. By 1802 when Mihr `Ali was commissioned to paint this series, there was no threat from India; it was by then pretty much under British control. Despite the lack of attempted facial verisimilitude, the coat and shawl are clearly Indian, as is the turban, and a prominent katar dagger, a form completely unknown in Iran and therefore slightly misunderstood, is pushed into the waist sash.Mihr `Ali, more than anybody else, was the artist who created the public image of Fath `Ali Shah. While the slightly older artist Mirza Baba also painted a number of portraits of the shah, they tend to be more personal and possibly more sensitive, such as the spectacular image in the Indian Office Library (British Library, London, inv.no.F116). It was Mihr `Ali whose paintings fully concentrated on the monarch as icon, famously copying the stance used by Jacques-Louis David in his depiction of Napoleon wearing his coronation robes (Palais des Beaux Arts de Lille, original sketch). Copying an example that goes back to the Roman emperors, Napoleon had had various versions of this painting created, such that examples, often by Francois Gerard, are in Moscow (Pushkin Museum), Berlin (Deutsches Historisches Museum), Naples (Capodimonte Museum), Vienna (Hofburg) and Amsterdam (Rijksmuseum). This became another feature of Mihr `Ali's images, which were circulated to diplomats and the courts of Europe and India and thus are now similarly widespread. All his images, whether the shah is standing in Napoleonic pose, seated in a chair in armour, or seated in traditional pose leaning against a pearl-encrusted cushion, clearly demonstrating his beard, his waist and his wealth, emphasize his importance. Mihr 'Ali's placing of the king surrounded by the famous previous kings of Iran again emphasizes the same, which is especially relevant given how new the dynasty was at the time. Our two portraits of Indian emperors clearly add another dimension to the political message intended by this most skilled early 19th century royal artist in his most famous commission.
THE MUGHAL EMPEROR SHAH JAHAN
SIGNED MIHR 'ALI, QAJAR IRAN, DATED AH 1218/1803-04 AD
Details
THE MUGHAL EMPEROR SHAH JAHAN
SIGNED MIHR 'ALI, QAJAR IRAN, DATED AH 1218/1803-04 AD
Oil and gold leaf on canvas, originally of arched format, Shah Jahan depicted facing right, signed raqam kamtarin Mihr 'Ali in the lower right hand corner, identification inscription to the left of the figure, reduced at top, relined, stretched and framed
5ft.8in. x 3ft. (172 x 86cm.)

Special Notice

These lots have been imported from outside of the UK for sale and placed under the Temporary Admission regime. Import VAT is payable at 5% on the hammer price. VAT at 20% will be added to the buyer's premium but will not be shown separately on our invoice.
Brought to you by
Behnaz Atighi Moghaddam
Islamic Art
Check the condition report or get in touch for additional information about this
Condition Report
If you wish to view the condition report of this lot, please sign in to your account.
Sign in
View condition report
;
More from

Art of the Islamic and Indian Worlds including Oriental Rugs and Carpets