Browse Lots
Global notice
COVID-19 Important notice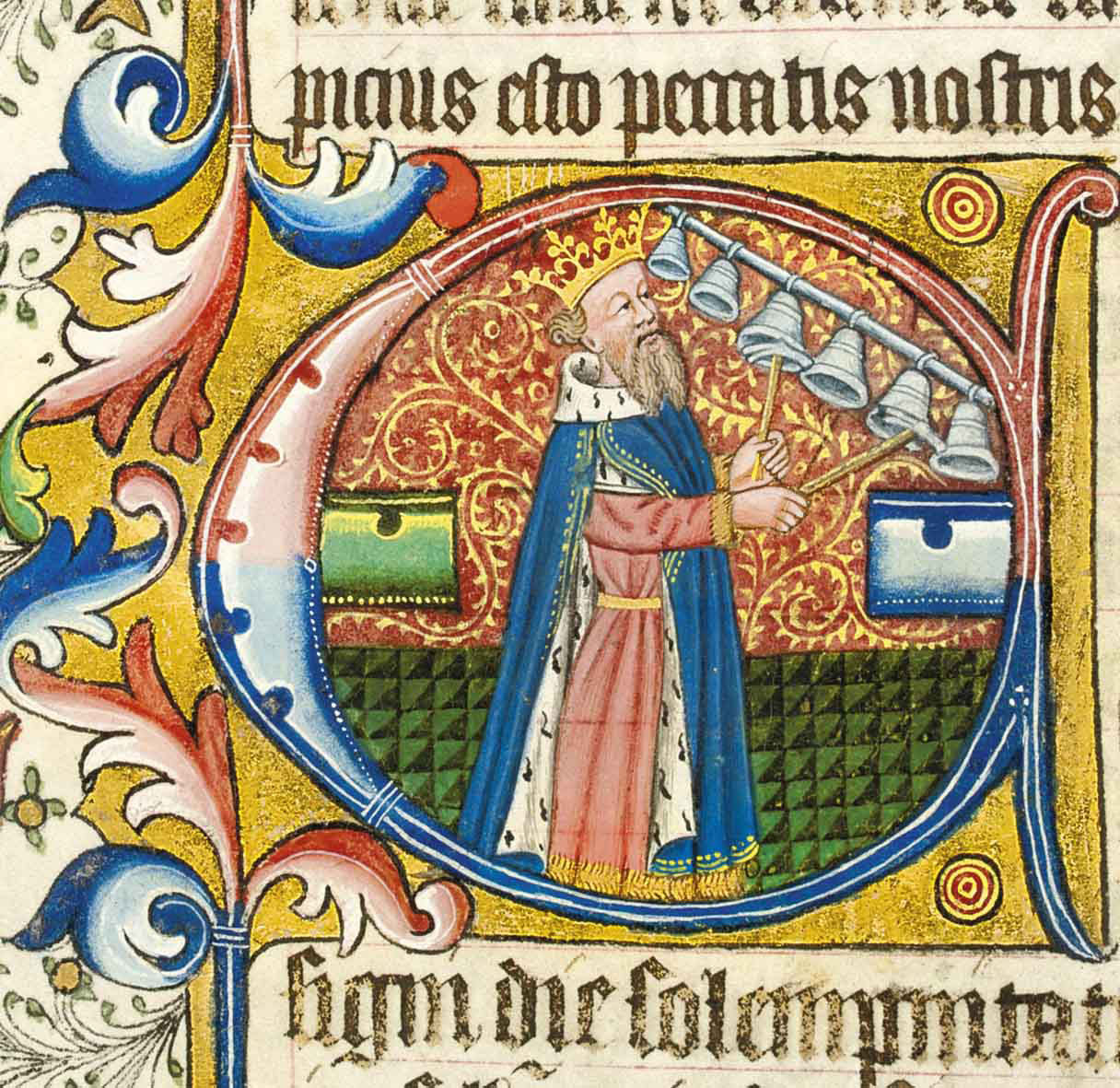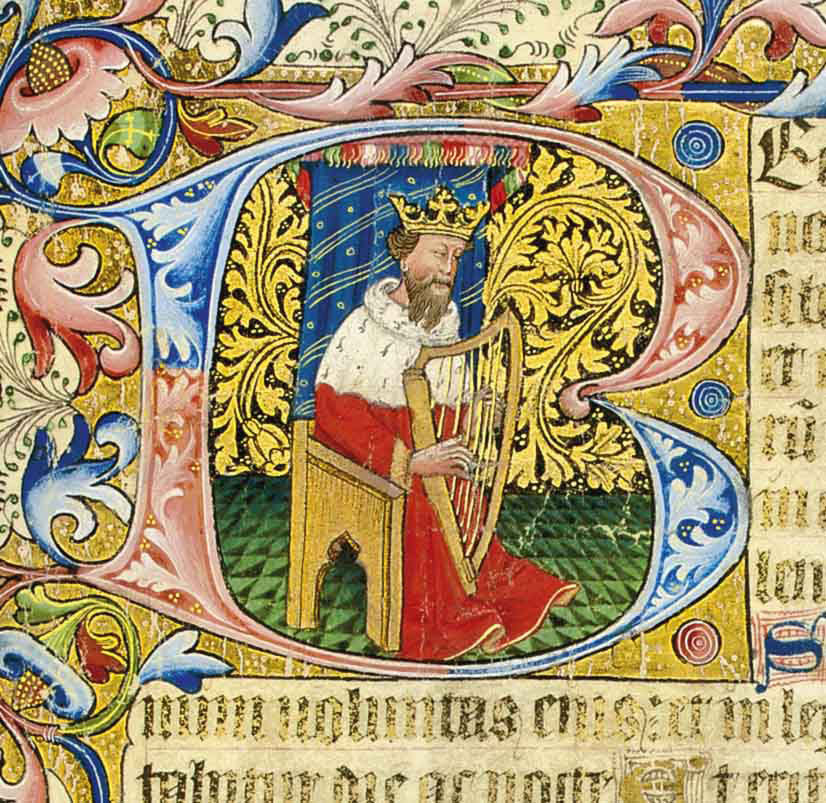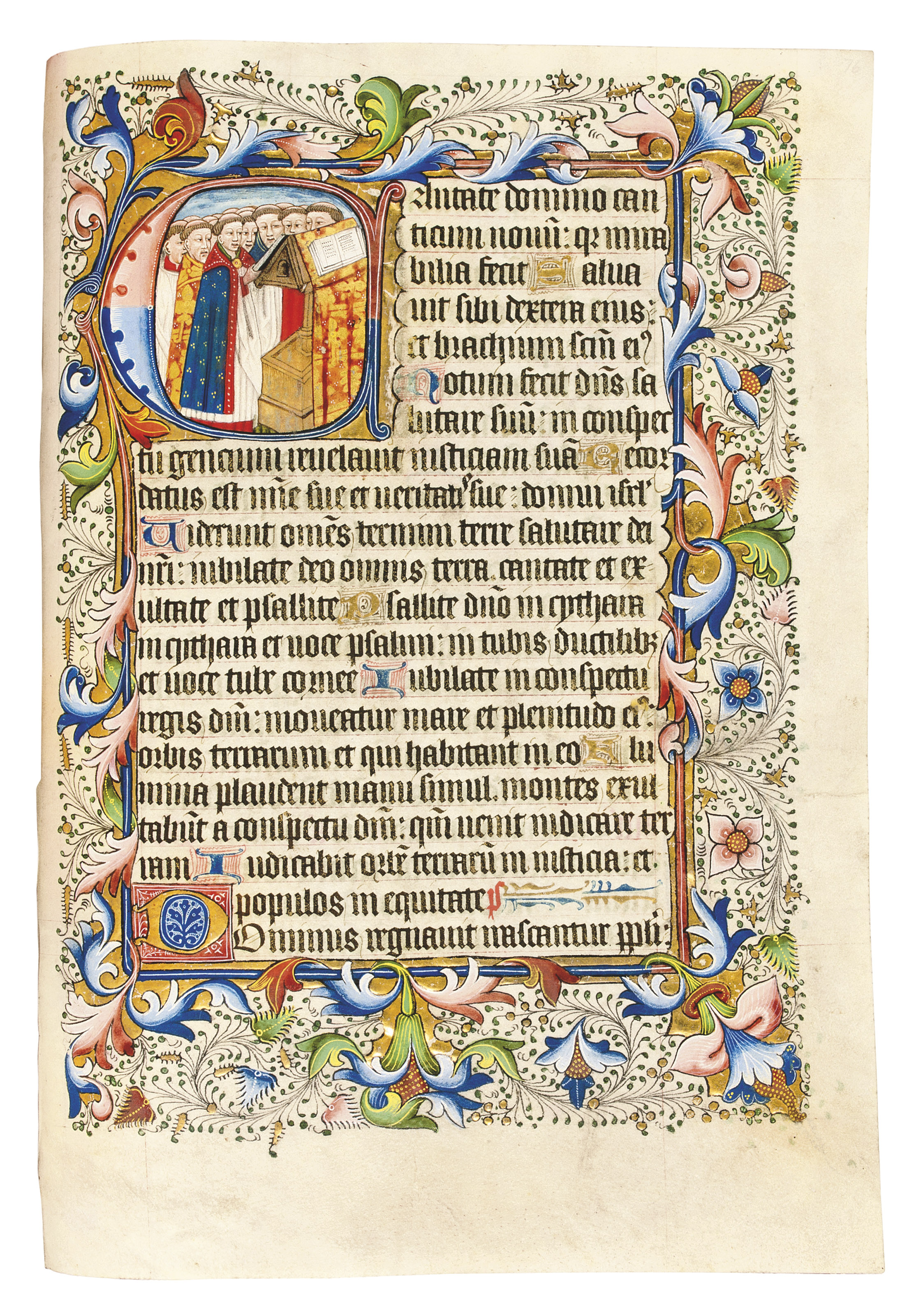 THE RICE PSALTER, use of Sarum, in Latin, ILLUMINATED MANUSCRIPT ON VELLUM
Details
THE RICE PSALTER, use of Sarum, in Latin, ILLUMINATED MANUSCRIPT ON VELLUM
[England, probably London, middle or third quarter of the 15th century]
290 x 210mm. 133 + ii leaves, COMPLETE: 16, 2-98, 105 (of 4 + v), 11-168, 172, 188, quire 10 is irregular in order that Psalm 80 begins on a new quire and quire 18 is the Office of the Dead, foliated in modern pencil, catchwords in most gatherings, leaf-signatures and prickings occasionally survive, 21 lines written in brown ink in a fine formal gothic bookhand between two verticals and 22 horizonals ruled in pale red ink, justification: 185 x 125mm, rubrics and important calendar entries in red, one-line initals alternately blue with red penwork or gold with brown penwork, line-endings in blue and gold, two-line initials throughout in gold with rose and blue infill and background with white tracery ornament and marginals sprays terminating in green and gold leaves, EIGHT LARGE HISTORIATED INITIALS WITH GOLD SURROUNDS, EACH ACCOMPANIED BY A FULL BORDER of semi-naturalistic acanthus and other plant forms, black feathering, gold and small green leaves, their style changing at f.100, the opening of quire 14, and again for quire 18, the Office of the Dead), (some text rubbed or flaking, some smudging to a few of the historiated initials). 19th-century red straight-grained morocco à la cathedrale, one of the paper flyleaves watermarked 1821, gauffered and gilt edges (minor wear to extremities, split to lower joint). Slipcase.

A LARGE, COMPLETE, LUXURY ENGLISH PSALTER IN FINE CONDITION, WITH UNUSUAL HISTORIATED INITIALS

PROVENANCE:
1. Written and illuminated probably in London in the 1450s or 1460s. The antiphons show that the book was intended for liturgical rather than private devotional use, and the grading of feasts up to nine lessons in the calendar indicates use in a secular church or chapel. The presence of St John of Beverley, described as archbishop of York (6 May), has been taken to suggest a possible destination in the north, but this feast is in plain ink with three lessons (the lowest grading), and his translation is absent (25 October). It has been proposed that the presence of St Winefred in the calendar indicates a date after 1452, and thus a date for the manuscript of c.1460-1470; she appears in English calendars considerably earlier, however, and the feasts of St Osmund (canonised in 1456), his translation (in 1457), and the Transfiguration (instituted in 1457), are all absent, which may suggest a date closer to c.1455.
2. At the end of the text is an added late medieval inscription 'Off your charite pray for the soules of Symon Rice and Letyce his wyffe their father(s) soules ther mothers so(u)les ther frendes soules and all Cristen so(u)lles. Amen' (f.133). This is presumably Simon Rice (or Rise) (d.1530), citizen merchant of London, and his wife Lettice (on whom see A.F. Sutton, The Mercery of London: Trade, Goods and People, 1130-1578, 2005, p.539); he built or restored the chantry of St Mary at the east end of All Saints' church, Kidderminster, and in the middle of the church was a brass slab commemmorating his parents(?) with an inscription very similar to that in the manuscript: 'Of your charity pray for the souls of Thomas Rise and Margery his wife, and their children's souls, the which Thomas deceased 31 Dec, 1494' (see J.R. Burton, A History of Kidderminster, 1890, p.44).
3. Inscribed in a late 16th-century hand on the first back flyleaf with accounts, including:
'For drinke to the boy in farnorth at the funeral -- i d.
For ale at burchenheades on fryday -- ii d.'
Birkenhead is about 25 miles west of Bramhall, and Farnworth is about 15 miles north-west of Bramhall. At the Reformation references to Thomas Becket and popes were defaced in the calendar, and the litany of saints was lightly crossed-through.
4. Owned by the Davenport family of Bramhall by the 17th century when inscribed 'Jn. Davenport His book' (2nd back flyleaf), and remained in the family until c.1877'. A detailed pedigree of the family is in G. Ormerod, History of Cheshire, 2nd edn, 1882, III, pp.827-8.
5. Henry Huth (1815-1878); described in The Huth Library: Catalogue of the Famous Library of Printed Books, Illuminated Manuscripts ... Collected by Henry Huth, 1880, IV, p.1192; by descent to his son, Alfred Henry Huth (1850-1910), with his oval gilt blue leather bookplate; sold on the 8th day of the Huth sale, on 18 July 1917, lot 6008 with plate; bought by Quaritch for £235; Bernard Quaritch, A Catalogue of Illuminated and Other Manuscripts, 1931, p.66 and full-page plate, no 88 at £500.
6. Countess Estelle Doheny (1875-1958), with her oval gilt green leather bookplate (L.V. Miller, Catalogue of Books & Manuscripts in the Estelle Doheny Collection, I, 1940, p.4, pl.VII); bought from Quaritch; Doheny sale in these rooms, 12 December 1987, lot 176.

CONTENT:
Calendar ff.1-6v; Psalms 1-150 with antiphons ff.7-112; the six ferial canticles followed by Te deum, Benedicite, Benedictus, Magnificat, Nunc dimittis, and Quicumque vult ff.112-122; Litany and collects ff.122-125v; Office of the Dead, use of Sarum ff.126-133.

ILLUMINATION:
The volume is described and discussed by Kathleen Scott, Later Gothic Manuscripts [II] 1390-1490, 1996, no 107, ills 401, 403-6. She identifies the artist as the Wingfield Master, named for the miniatures in the Wingfield Psalter-Hours (New York, Public Library, ms Spencer 3; on which see Scott, no 106, and the exhibition catalogue The Splendor of the Word, 2005, no 47, citing the present manuscript at p.229). Certainly both manuscripts have figures with similar facial types, with distinctive heavy eyelids, and there are similarities of iconography, such as a jester representing the Fool, but there are also differences in palette and in the depiction of landscapes, particularly trees, although these may be due to changes in scale and date: if the New York miniatures are c.1470 there may be an interval of a decade or more between the two manuscripts.

Each page with an historiated inital has a full border, in one of two styles: Scott attributes the first two and last two borders (ff.7, 23, 76, and 88) to the artist of the two-line initials in Cambridge, Fitzwilliam Museum, ms 56 (Scott, no 123), and suggests comparison with the borders of Oxford, University College, ms 85 (Scott, no 118) and related manuscripts. The remaining borders in the present manuscript (ff.33, 42v, 52v, and 64v) are in a second, less elaborate, style.
The subjects of the historiated initials at the usual eight divisions of the Psalms are:
f.7 Psalm 1. King David enthroned, harping (Scott, ill.401)
f.23 Psalm 26. King David praying in a landscape, blessed by God above
f.33 Psalm 38. King David in a landscape
f.42v Psalm 52. The Fool dressed as a jester, in a landscape (Scott, ill.406)
f.52v Psalm 68. King David, wearing only underpants and a crown, standing in a river and praying to God above (Scott, ill.403)
f.64v Psalm 80. King David playing a carillon of six bells with two hammers (Scott, ill.404).
f.76 Psalm 97. A large crowd of clerics singing from a book on a lectern.
f.88 Psalm 109. The Trinity: the three near-identical figures seated on a throne, wearing a single mantle, each blessing with their right hand and with their left on an open book (Scott, ill.405).

According to the Schoenberg database, no other English 15th-century psalter of similar size and level of decoration has been sold on the open market since the Duke of Newcastle's sale in 1937.

Brought to you by
Check the condition report or get in touch for additional information about this
Condition Report
If you wish to view the condition report of this lot, please sign in to your account.
Sign in
View condition report
More from

The Arcana Collection: Exceptional Illuminated Manuscripts, Part III