Lot Content
Global notice
COVID-19 Important notice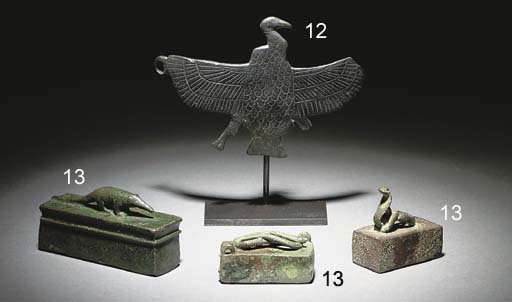 No VAT will be charged on the hammer price, but VA… Read more
THREE EGYPTIAN BRONZE MINIATURE ANIMAL COFFINS
LATE PERIOD-PTOLEMAIC (664-30 B.C.)
Details
THREE EGYPTIAN BRONZE MINIATURE ANIMAL COFFINS
LATE PERIOD-PTOLEMAIC (664-30 B.C.)
Comprising a miniature bronze sarcophagus surmounted by the figure of an ichneumon, with finely incised details of pelt, 3 1/8 in. (8 cm.) long; another surmounted by the coiled figure of a snake with reared head, 1¾ in. (4.4 cm.) long; and another with head lowered, two suspension loops on corners, 2 in. (5 cm.) long (3)

Provenance
Item one: sold Philips London, 20 September 2000, lot 2.
Item two: formerly in the collection of Mariette Pacha (1821-1881); given to Ambroise Baudry (1838-1906) and thence by descent: sold Drouot-Richelieu, Paris, 17 March 2003, part lot 131.
Item three: Lord Amherst collection, possibly Sotheby's London, 13 June 1921, part lot 164.

Special Notice

No VAT will be charged on the hammer price, but VAT at 17.5% will be added to the buyer's premium, which is invoiced on a VAT inclusive basis.
Lot Essay
See illustration on page 10.

;
More from

Fine Antiquities & Important Antiquities from Capesthorne