Browse Lots
COVID-19 Important notice
Read More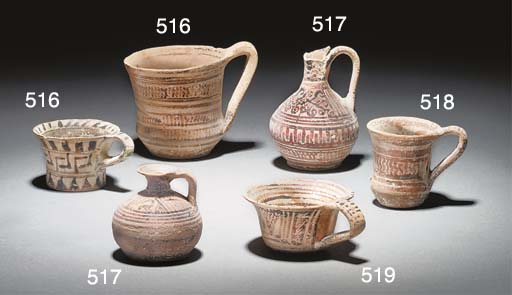 VAT rate of 5% is payable on hammer price plus buyer's premium
THREE GREEK GEOMETRIC MINIATURE POTTERY VESSELS
8TH CENTURY B.C.
Details
THREE GREEK GEOMETRIC MINIATURE POTTERY VESSELS 8TH CENTURY B.C. Comprising a miniature aryballos, decorated with bands around body, rim and handle, the shoulder with aquatic birds, dots and rays, 2 3/8 in. (6 cm.) high; another with orientalising geometric motifs, rim missing, 3½ in. (9 cm.) high max.; and a kylix with hemispherical bowl, flat base and two horizontal ring handles, decorated with orange painted geometric designs and bands on the exterior, painted orange interior, 4 1/8 in. (10.5 cm.) (3)
Provenance
Acquired in 1978.

Special Notice

VAT rate of 5% is payable on hammer price plus buyer's premium
Lot Essay
PUBLISHED:
Antiken aus dem östlichen Mittelmeerraum, Galerie Heidi Vollmoeller, Zurich, 1987, no. 13 (5273, 5274 and 5269).

;
More From

THE HEIDI VOLLMOELLER COLLECTION