Upcoming Auctions and Events
COVID-19 Important notice
Read More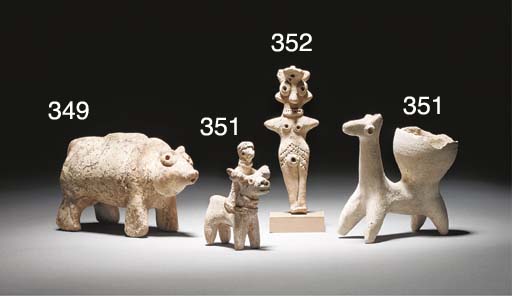 VAT rate of 5% is payable on hammer price plus buyer's premium
TWO SYRO-HITTITE TERRACOTTA FEMALE FIGURES
EARLY 2ND MILLENNIUM B.C.
Details
TWO SYRO-HITTITE TERRACOTTA FEMALE FIGURES EARLY 2ND MILLENNIUM B.C. The first of stylized form, standing with arms outstretched, applied circular eyes, breasts and navel, stippled necklace and detail across the thighs, pierced roundel on the forehead; another similar, wearing pierced headdress, applied necklace and stippled band across her thighs, both mounted 3¾ in. (9.6 cm.) and 4 5/8 in. (11.8 cm.) high respectively (2)
Provenance
Acquired in 1958 from Jacques Matoussian (item one); acquired in 1951, Paris (item two).

Special Notice

VAT rate of 5% is payable on hammer price plus buyer's premium
;
More From

THE HEIDI VOLLMOELLER COLLECTION