Lot Content
Global notice
COVID-19 Important notice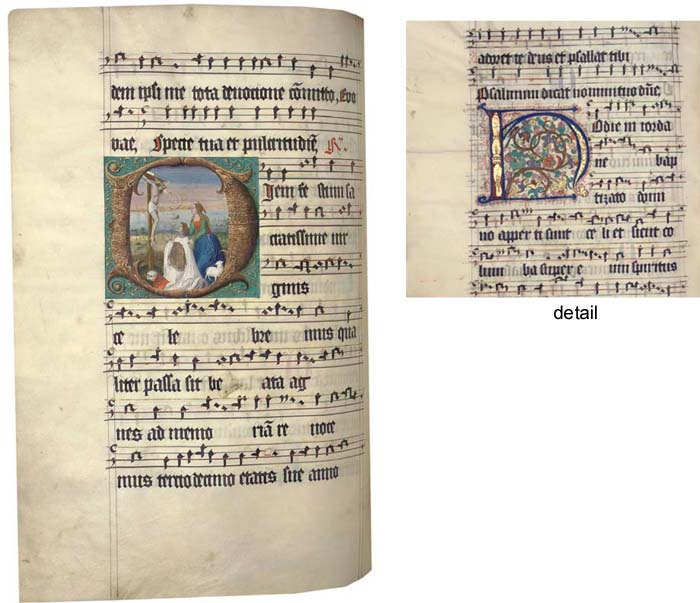 No VAT on hammer price or buyer's premium.
TWO WINTER ANTIPHONAL VOLUMES, in Latin, ILLUMINATED MANUSCRIPT ON VELLUM
Details
TWO WINTER ANTIPHONAL VOLUMES, in Latin, ILLUMINATED MANUSCRIPT ON VELLUM
[?Rhineland, c.1515]530 x 365 mm. Vol.I: 371 leaves: 17(of 8, i cancelled blank), 2-298, 306, 31-46s8, 476(of 8, vii and viii cancelled blanks, catchwords, some signatures, intermittent contemporary foliation in red Roman numerals on versos; Vol. II: 530 x 365 mm, 388 leaves: 16(of 8, lacking i, cancelled blank, and ii), 2-278, 287(of 8, lacking viii), 29-478, 489(of 8 + ix), 502, 514, some signatures, original foliation in red Roman numerals on versos of alternate folios from iii-xxxvi, the alternate numbers added in black ii-xxxvii, first two gatherings with outer stitching guards cut from a manuscript vellum choirbook; both volumes written in black ink in a gothic bookhand in nine lines between two double verticals ruled in black and 18 horizontals ruled in plummet under nine four-line staves of music, each stave ruled in green, black, red and black, justification: 353 x 230 mm, ff.367-371 of Vol. I and ff.383-8 of Vol. II in two columns of 24 lines between four verticals ruled in black, the outer double ruled, and 25 horizontals ruled in plummet, rubrics in red, text capitals touched red, large initials in blue or red or black and red, some flourished in black with foliate forms; Vol. I: two very large penwork initials in grey, five flourished initials in varied colour combinations, some with staves with faces, 20 VERY LARGE INITIALS IN FULL COLOURS,WITH BIRDS, BEASTS, FACES AND FOLIAGE two with gold; Vol. II: 16 very large flourish initials in varied colour combinations, eight very large initials painted in full colour with stylised foliage and birds, four with liquid gold, TWO VERY LARGE HISTORIATED INITIALS (some original repairs to parchment unstitched, slight wear to margins, vol.II lacking two written leaves and with f.382 trimmed up to text). Contemporary blind-stamped pigskin over wooden boards with brass corner- and centre-pieces, catches, clasps and end-pieces to straps, Vol. I with tabs and assembled pastedowns of paper with one fragment of a noted liturgical manuscript, vol. II with printed calendar of Johannes Virding of Hassfurt dated 1516 as pastedowns, with figures of Jupiter, Mars and Saturn (Vol. I lacking two cornerpieces from both upper and lower covers, top of lower joint splitting; Vol. II lacking one corner-piece from lower cover, scuffed).

PROVENANCE:

1. The two matching winter Antiphonal volumes must each have belonged to a larger set to complete the liturgical year. Although misleading to describe them as Volumes I and II, since they did not belong to a single muti-volume set, the distinction will be followed here for convenience. With their matching bindings, identical layouts and similar decoration, the volumes presumably came from two sets in use either within the same church or by two very closely linked churches, perhaps a Benedictine mother and daughter house, from the inclusion of St Benedict among the few feasts from the Sanctoral. In both volumes, St Agnes is specially celebrated: by two historiated initials in Vol. II and by having her name written in red in Vol. I. In one of the historiated initials in Vol. II, a canon is presented by St Agnes to the Crucified Christ, f.229v. At his feet are the arms, gules, a billhook proper, as borne by the family of Lüder in Hesse.

The same coat of arms appears on a cutting of the resurrected Christ appearing to the Magdalen within the N of Noli me tangere in Cambridge University Library, Ms Add. 4165(7), which apparently comes from the same choirbook as 25 cuttings in the Royal Ontario Museum, Toronto, Ms 997.158.157. Among these are three initials showing a Benedictine Abbess and an especially elaborate initial for the feast of St Benedict himself, suggesting that the dismembered book was made for a house of Benedictine nuns, see P. Binski and S. Panayotova eds, The Cambridge Illuminations, 2005, no 63, where the billhook is identified as a sickle and associated with the Franconian family of Streitberg. Recorded as dated c.1514, the dismembered book or books may have come from either or both of the summer volumes needed to complete the winter volumes in the present lot. If so the canon may have contributed to the cost of a commission for a Benedictine convent, whose abbess was a close relation, most obviously his sister.

The calendar used as a pastedown in Vol. II was printed in 1516 in Hassfurt on the Main in Lower Franconia. There was a house of Benedictine monks in Hassfurt but no nunnery; convents dedicated to St Agnes have not been identified in neighbouring centres, like Bamberg and Würzburg. Printers' waste could easily have been shipped along the Main to other centres.

2. Leander van Ess (1772-1847): Professor of Theology at Marburg until he retired to Darmstadt in Hesse in 1822. Van Ess was a famous collector of, and dealer in, manuscripts largely from the libraries of secularised religious foundations. The annotation on the pastedown of Vol. I 'zwei Chorale Bücher 2 vols', perhaps in his hand, shows that the volumes were already together. Either when they were still in use or with van Ess, small scraps of German text were used as bookmarks, including a bifolium from a small manuscript prayerbook on paper (Vol. I).

3. Sir Thomas Phillipps (1792-1872): his lion stamp and Sir T.P. Middle Hill on first folios of each volume, his number 682, annotated 'vol 2', in Vol. II; 681 printed label on spine of Vol. I corrected in ink to 682. In 1823-4, Phillipps purchased from van Ess his manuscript numbers 387-759, 4480 and 6833-5, which were said to come principally from the Charterhouse of St Barbara in Cologne, the Benedictine house of St Jakobsberg near Mainz and the Premonstratensian house of Steinfeld. There was a nunnery dedicated to St Agnes in Mainz but it was a Cistercian house, suppressed in 1802; if the Cistercian black scapular was confused with the Benedictine habit in the description of the Toronto cuttings, this becomes a possible provenance. British Library, Loan 36/5.

CONTENT:

Vol. I: Temporal from Advent to none on the Saturday in Holy Week, ff.1-202v, Sanctoral, with offices for St Stephen, 26 December, the Innocents, St Agnes, the Conversion of St Paul, the Purification of the Virgin, St Agatha, St Peter Enthroned, St Benedict, the Annunciation, 25 March, ff.202v-290v; Communal, ff.290v-334v; Hymns, ff.335-365v; Canticles, including those for Christmas and the Offices of the Communal, ff.366-371.
Vol. II: Temporal from Advent (lacking opening) to the Saturday of Holy Week, with the text which should have followed f.11 mistakenly copied onto f.14 of bifolium ff, which was bound with f.7 correctly positioned, ff.1-204v; Sanctoral from St Stephen, 26 December, to the Annunciation, March 25 (lacking one leaf from the Office for the Holy Innocents),ff.205-295; Communal,ff.295-347; Hymns, ff.347v-382v; Canticles, as in Vol. I, ff.383-388.

These antiphonals include the versicles and responsaries to give all the major sung elements, apart from the psalms, of the offices -- the services held at the liturgical hours of the day, which altered with the Church's calendar. Such choirbooks are usually large so that the choir, grouped around a lectern, can easily read from the one volume. The two volumes of the present lot cover the winter section of the calendar, from Advent to the day before Easter. Their texts appear to be virtually identical, that in Vol. II with all the features found in Vol. I. They differ very slightly at the Office for St Agnes where Vol. I f.236 has an extra responsary and versicle compared to II, f.237. There is an additional hymn in Vol. II, Hec est dies, on the bifolium ff.381-381.

ILLUMINATION:

It is very possible that the brightly coloured initials with their attractive floral motifs, animals and birds were executed by the nuns for whom the volumes were apparently intended. There is a freshness and variety in their motifs that does not suggest a very systematised production team of professional illluminators. The historiated initials in Vol. II, however, are probably the work of professional illuminators who had been well trained in the application of paint and gold. The initial with the canon, in particular, is painted with a skill and delicacy that matches the Cambridge cutting. The figures are set in an evocative landscape where a broad river is depicted under a pink streaked sky. Fine lines of gold create Christ's halo and pick out the canon's word's 'Fac cum servo tuo secundum miseri[cordiam] tuam', 'Deal with thy servant according to thy mercy', verse 124 from Pslam 118 (Vulgate numbering).
(2)

Special Notice

No VAT on hammer price or buyer's premium.
More from

Valuable Manuscripts and Printed Books