Upcoming Auctions and Events
Global notice
COVID-19 Important notice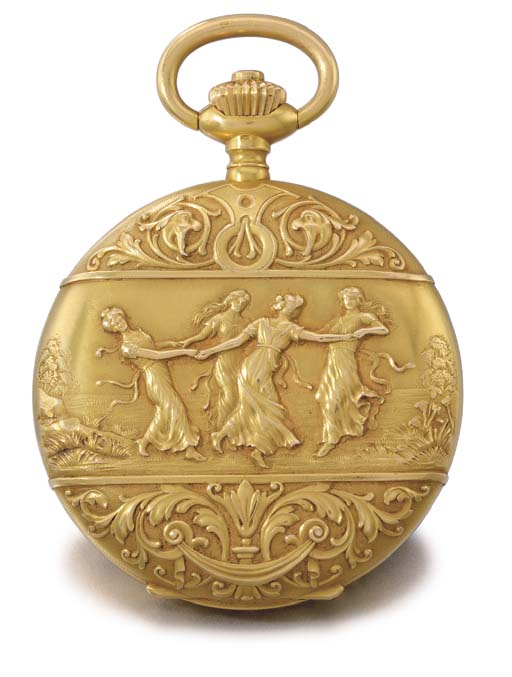 Vacheron Constantin. A fine 18K gold hunter case keyless lever watch
SIGNED VACHERON & CONSTANTIN, GENEVE, MOVEMENT NO. 340'202, CASE NO. 208'273, CIRCA 1909
Details
Vacheron Constantin. A fine 18K gold hunter case keyless lever watch
Signed Vacheron & Constantin, Geneve, movement no. 340'202, case no. 208'273, circa 1909
With gilt-finished jewelled lever movement, bimetallic compensation balance, gold cuvette, the white enamel dial with Roman numerals, gold spade hands, subsidiary seconds, in circular case with finely chased scroll and foliage decoration in high relief, the front centred by a scene depicting four dancing nymphs, the reverse with the engraved inscription La Intendencia Municipal de la Capital a la Sociedad Bomberos Voluntarios de la Boca 1 Premio Categoria 9 de Julio 1909, case, cuvette, dial and movement signed
50 mm. diam.

;
More from

IMPORTANT POCKETWATCHES AND WRISTWATCHES