Lot Content
COVID-19 Important notice
Read More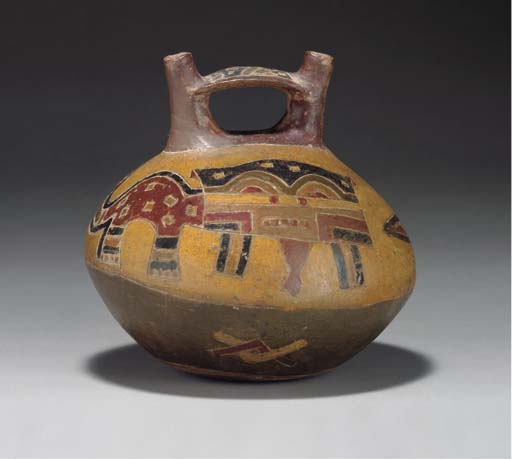 COLLECTION D'UN GRAND AMATEUR
VASE POLYCHROME
PARACAS, OCUCAJE, ENV. 500-300 AVANT J.C.
Details
VASE POLYCHROME Paracas, Ocucaje, env. 500-300 avant J.C. Récipient en terre cuite avec une décoration peinte à la résine de couleurs safran rouge sombre, noire, brune et vert sombre, orné d'une incision représentant deux chats au pelage décoré qui courent dans la nature et dont les queues sont enroulées vers le haut et la large tête soulignée par des oreilles dressées et une gueule toutes dents apparentes. Hauteur: 20.4 cm.
Provenance
Acquis en 1961 à New York par le propriétaire actuel.

Post Lot Text
MIDDLE PARACAS POLYCHROME VESSEL
OCUCAJE, CA. 500-300 B.C.

Resin painted in saffron, deep red, black, brown and dark green, incised with two striding pampas cats, each with patterned pelt, tail curled upward, large head with perked ears and toothy grin.
Lot Essay
Voir Paracas, pl.5 en haut.

;
More From

ART PRECOLOMBIEN