Lot Content
COVID-19 Important notice
Read more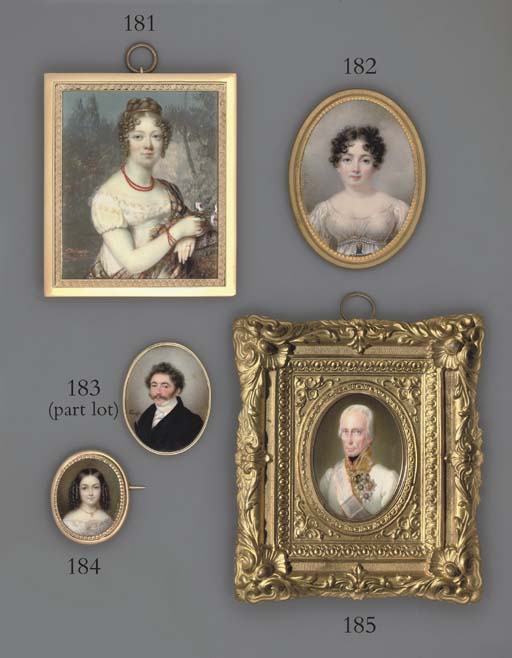 No VAT will be charged on the hammer price, but VA… Read more
PROPERTY FROM A BELGIAN PRIVATE COLLECTION
VINCENT BERTRAND (FRENCH, B. 1770)
A young lady, in white dress with gauze bodice, blue sash adorned with heart-shaped gold pendant and white over-frill bordered with rope of pearls, centre-parted short curling hair; sky and cloud background
Details
VINCENT BERTRAND (FRENCH, B. 1770)
A young lady, in white dress with gauze bodice, blue sash adorned with heart-shaped gold pendant and white over-frill bordered with rope of pearls, centre-parted short curling hair; sky and cloud background
bearing signature 'Isabey.' (mid-left)
oval, 2½ in. (64 mm.) high, gilt-metal easel frame (easel partly deficient) by Asprey & Sons, 166 New Bond St., signed

Provenance
Hermann Emden Collection, Hamburg; part IV, Rudolph Lepke's Kunst-Auctions-Haus, Berlin, 2-3 May 1911, lot 89 (as Princess Pauline Borghese by Isabey).
With Lombard, Geneva, 10 July 1978.

Literature
L. R. Schidlof, The Miniature in Europe, Graz, 1964, I, p. 397 ('not by Isabey, nor the portr. of Princess Borghese').

Special Notice

No VAT will be charged on the hammer price, but VAT at 15% will be added to the buyer's premium which is invoiced on a VAT inclusive basis.
;
More From

Important Portrait Miniatures and Gold Boxes