Lot Content
Global notice
COVID-19 Important notice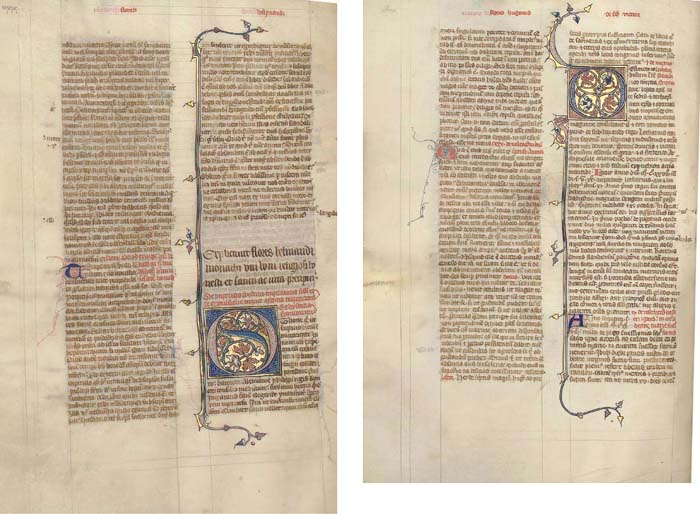 No VAT on hammer price or buyer's premium.
VINCENT OF BEAUVAIS (c.1190-1264), Speculum historiale, vol. IV, in Latin, ILLUMINATED MANUSCRIPT ON VELLUM
Details
VINCENT OF BEAUVAIS (c.1190-1264), Speculum historiale, vol. IV, in Latin, ILLUMINATED MANUSCRIPT ON VELLUM
[Paris, second half 14th century]353 x 225 mm. ii paper + 265 + ii (ii former pastedown) + ii paper leaves: 110, 2-912, 1010, 11-2212, 236(uncertain), COMPLETE, catchwords and corrector's signatures with penwork surrounds in lower margins of final versos, modern gathering letters on opening rectos, 52 lines in two columns written in brown ink in a gothic bookhand between 53 horizontals and four verticals, ruled in grey, justification: 247 x 76-20-70 mm, prickings for verticals, additional double-ruled horizontals and verticals in outer margins, in upper margin for running headings in red, running roman numerals for each book on upper outer corners of rectos, rubrics in red, one-line initials and paragraph marks alternately in blue and red, two-line initials alternately in blue flourished in red and in red flourished with blue, nine large initials with staves of blue or pink one with dragon terminal, with foliate infills on gold grounds extending into bars with leaf terminals in gold, blue and pink (first page with large initial rubbed, stitching lost from the original repairs to some margins). 19th-century calf-backed marbled boards by R.P. Bradel, spine tooled and titled in gilt (both joints split at head of spine).

PROVENANCE:

1. From its style, the manuscript was made in Paris in the second half of the 14th century.

2. Sir Thomas Phillipps (1792-1872): his number 6652 on label on spine, pencilled note on verso of second paper leaf of its source 'Payne 1835', whereas the printed catalogue records the date as 1834; pencilled note continues 'from Teschener of Paris', presumably Joseph Téchener (1802-73); British Library, Loan 36/21.

CONTENT:

Vincent of Beauvais, Speculum historiale, vol. IV: Index of contents, with references to book and then chapter number, opening 'Aygolaudus impugnat christianos .xx.l.ix' and ending 'yvonis belluaceum gesta .xxvj.l.lxxxiiij. Explicit tabula super quartum volumen speculi historialis', ff.1-2; Book XXV headed 'i. de imperio Karoli et forma eius et robore Sygibertus', opening 'Karolus igitur magnus cum iam super francos...', f.2; Book XXVI f.28v; Book XXVII f.64v; Book XXVIII f.93v; Book XXIX f.127v; Book XXX f.159v; Book XXXI f.196v; Book XXXII, f.231v, ending '...nichil in creatura agitur quod videre non valeant'.

The prolific Dominican author, Vincent of Beauvais, attracted the support of Louis IX, the future saint, and was lector, or reader, in Louis's Cistercian foundation of Royaumont for much of the time he was engaged on his most ambitious work, c.1245-1255. This was the compilation that developed into the Speculum maius, the Greater Mirror, the greatest and most comprehensive of all medieval encyclopaedias, intended to reflect the totality of human knowledge through the Mirror of Nature, Speculum naturale, the Mirror of Instruction, Speculum doctrinale and the Mirror of History, Speculum historiale. A Speculum morale was added in around 1300, which may have incorporated some of Vincent's own material.

Although the Speculum maius was orchestrated as a whole, Vincent himself seems to have realised that it made practical sense for individual parts to circulate independently. It seems likely that not only each Mirror but volumes within each Mirror could be regarded as separate works. Of the Speculum historiale, the fourth and final volume, beginning with the reign of Charlemagne seems to have proved particularly popular as what was then a 'modern' history, which retained its appeal into the 16th century. Over 240 manuscripts of the text, in all or part, survive, yet only one other has been offered at auction in the past thirty years, an imperfect copy of Volume IV, now in the Lawrence J. Schoenberg Collection at Penn University (bought Sotheby's, London, 20 June 1995, lot 87; for the manuscripts, see M.C Duchenne et al. 'Une liste des manuscrits du Speculum historiale de Vincent de Beauvais', Scriptorium, XLI, 1987, pp.286-94, for the present lot p.292).

That the present lot was intended as a self-contained, independent book is suggested by the inclusion of the index, which would normally precede Volume I and deal with the whole work. The scribe may have been editing this index as he wrote, since he mistakenly opens with a reference to Book XX, which falls in Volume III. The text he transcribed, with 32 instead of the earlier 31 books, dates from the latest phase of Vincent's revisions, completed after July 1254, for which scholars have taken as a base the manuscript in Douai, Bibliothèque municipale, Ms 797. The textual history of the Speculum historiale within the evolving Speculum maius is extremely complicated: five versions of the text have been distinguished, of which the Douai revision represents Vincent's final intentions. For the textual tradition, see J.B. Voorbij, Het 'Speculum historiale' van Vincent van Beauvais: een studie van zijn ontstaansgeschiedenis, Ph.D, Groningen, 1991, this manuscript p.312; for the text, Biblioteca mundi Vincenti Burgundi...Speculum quadruplex..., Douai, 1624, reprinted 1965. It may have been the existence in Paris of different exemplars that led to the careful correction of the present lot: each gathering has been signed cor[rigit] p[er] Rob[ertus/inetus]. The frequent additions or corrections in the margins are usually of words or phrases but there are some more substantial additions, as on f.10.

Vincent's intention was to simplify the reader's task by bringing conveniently together all the most authoritative accounts and opinions of earlier writers, whose names he cites -- some 180 sources were used in the Mirror of History -- and royal support helped gain him access to libraries and loans of manuscripts. Vincent, in turn, was substantially drawn on by subsequent writers. His history is of enormous significance, not only for its insight into what people understood of the past in the thirteenth and subsequent centuries, but also for its preservation of sources now lost.

This handsome volume was clearly intended for use, with its index, running headings and book numbers, perhaps in a scholarly milieu where the accuracy of the text was a cause for concern. It was, however, a milieu that valued appearance as well as content. The index and each of the eight books open with a large illuminated letter and bar, which, apart from the opening page, have preserved their freshness. Their gold grounds still reflect the light, just as Vincent's Mirror of History reflects the past of which he wrote and also the times in which he wrote and then continued to be so highly valued.

Special Notice

No VAT on hammer price or buyer's premium.
More from

Valuable Manuscripts and Printed Books