Lot Content
Global notice
COVID-19 Important notice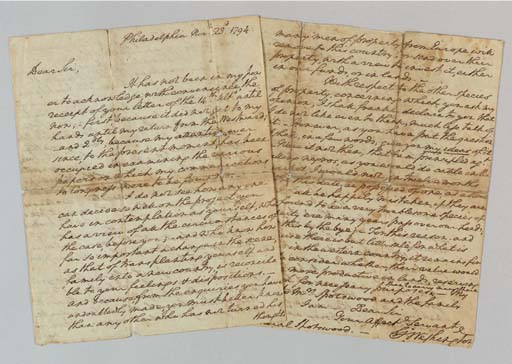 WASHINGTON, George, President. Autograph letter signed ("Go: Washington") as President to General Alexander Spotswood (1751-1818), Philadelphia, 23 November 1794. 4 full pages, 4to (9 x 7 3/8 in.) splitting at folds with tiny losses at fold intersections, the folds neatly silked.
Details
WASHINGTON, George, President. Autograph letter signed ("Go: Washington") as President to General Alexander Spotswood (1751-1818), Philadelphia, 23 November 1794. 4 full pages, 4to (9 x 7 3/8 in.) splitting at folds with tiny losses at fold intersections, the folds neatly silked.

WASHINGTON ON SLAVERY: "THE OTHER SPECIES OF PROPERTY," OF WHICH "I DO NOT LIKE EVEN TO THINK, MUCH LESS TALK"; HE EMPHATICALLY VOWS THAT "WERE IT NOT THAT I AM PRINCIPLED AG[AINS]T SELLING NEGROES, AS YOU WOULD DO CATTLE IN THE MARKET, I WOULD NOT, IN TWELVEMONTHS FROM THIS DATE, BE POSSESSED OF ONE, AS A SLAVE"

A highly important private letter, with a revealing passage that is almost invariably cited in discussions of Washington's complex and evolving attitudes towards slavery. Here, in a long, thoughtful reply to a Virginia landowner regarding the wisdom of moving to the new frontier lands in Kentucky or Northwest of the Ohio, Washington considers the investment prospects in western lands, the dangers of the unsettled frontier (especially due to hostile Indians) and predicts a wave of European investment in America. First, explaining his delay in responding, Washington notes that Spotswood's letter "did not get into my hands until my return from the Westward"; furthermore, the President has been preparing to deliver his 1794 State of the Union address, and "my attention has been occupied" in sifting the reports of cabinet officers "on which my communications to Congress were to be founded" (the 1794 Annual Address was delivered on 19 November). Washington frankly discusses Spotswood's plan to sell his lands on the Rappahannock and move to the newly opened western territories. Then, at the very end of his letter, Washington turns--with obvious distaste--to a discussion of Spotswood's property in slaves and whether they too should be sold. He writes, "With respect to the other species of property, concerning which you ask my advice, I shall frankly declare to you that I do not like even to think, much less talk of it. However, as you have put the question I shall, in a few words, give you my ideas of it. Were it not then, that I am principled ag[ains]t selling negros, as you would do cattle in the market, I would not, in twelvemonths from this date, be possessed of one, as a slave. I shall be happily mistaken, if they are not found to be a very troublesome species of property ere many years pass over our heads; (but this bye the bye). For this reason--and because there is but little sale for what is raised in the western country, it remains for you to consider whether, their value would be more productive in lands , reserving enough for necessary purposes than to carry many there..."

WASHINGTON AND SLAVERY
Only six months previously, in a private letter to his personal secretary Tobias Lear, Washington candidly confessed his earnest wish "to liberate a species of property which I possess very repugnantly to my own feelings." (6 May 1794, Fitzpatrick 33:358). Washington had grown up deeply emmeshed in the tradition of slave-owning. As a young man he had inherited 10 slaves on the death of his father in 1743; Martha Dandridge Custis's dowery included a large number of slaves. But, probably beginning with his personal involvement in the American revolution, he had become uncomfortably aware of the irreconcilable conflict between the public principles of the American experiment in liberty, the equality unqualifiedly proclaimed by the Declaration of Independence and guaranteed by the Constitution, and the stark realities of human chattel slavery. At various points during his public career he considered the prospects for gradual, legislative abolition of slavery--which appeared doubtful--and also pondered paths he himself might take, as a slave-owner to resolve the contradiction of his own position. In one scheme--discussed with an overseer at about the same period as this letter--he proposed dividing the Mount Vernon plantation into smaller farms that would be rented to farmers, who then, he hoped, would hire his former slaves to work the farms for simple wages. While this drastic and radical measure remained only a nebulous idea, it is documented that from the early 1770s Washington refused to sell any of Mount Vernon's slaves and he is known to have quietly freed several of his slaves while President. But the inherent contradiction remained, hence Washington's reluctance--clearly expressed here--to speak, and even think, about the thorny and distressing subject. As expressed here, he became increasingly cognizant of the potential the issue of slavery might possess, in the future, to divide the nation.

By 1799, when he compiled a detailed census of slaves at Mount Vernon, his and Martha's joint property in slaves comprised 317 persons, at least a third of whom were evidently to young or too old to work (Fitzpatrick 37:256-268). Like many of his contemporaries, Washington fervently "hoped that slavery might end, though he had no plan for ending it--which meant, in practice, that he acquiesced in the status quo" (R. Brookhiser, Founding Father, p.179). In his will, Washington stipulated that his slaves should be freed at Martha's death. No slave was to be sold "under any pretext whatsoever," older slaves and orphans were to be clothed and fed at the expense of his heirs, and younger slaves were to be taught to read and write and be taught a marketable trade. He was not able to free all Mount Vernon's slaves, as some belonged not to himself and his heirs, but to Martha Custis and her heirs, in addition there had been intermarriage between the two groups. Washington may have hoped by his example that Martha would enjoin similar liberal policies on her heirs in regard to her slaves, but in the end she did not. In the eyes of one scholar, Washington's will constituted "a rebuke to his family, to his class, and to the country"; freedom was something "they must have because of their humanity" (Henry Weincek, quoted in by N. Hurrelbrinck, (http://www.virginia.edu/gwpapers/slavery/inside.html). "Whether the freeing of his...Mount Vernon blacks by the provisions in his will was a sop to his conscience, a realization of the inevitable, or a final and genuine act of generosity will probably never be known. His last legacy does serve to confirm...that George Washington stood squarely on the side of emanciaption" (F. Hirschfeld, George Washington and Slavery: A Documentary Portrayal, p.6).

In the rest of the present lengthy letter, Washington comments on Spotswood's planned westward move, advising him to be aware of the larger financial implications, especially "what you can sell for here, and buy at there." He restates his own confidence in the excellent long-term prospects of America's new territories: "It has always been my opinion, that new countries (by this I mean the interior of our own) are the best to lay the foundation of wealth, inasmuch as lands which, comparatively speaking, are to be had there cheap, rise in a fourfold ratio to what they do in the Atlantic States, and it is to this circumstance, and the opportunities of acquiring them (by being in the scene) that the advantages consist: as, until the navigation of the Mississippi can be obtained or the communication between the Eastern & Western waters is made more easy, than is the case at present, the principal demand for the produce of the land is found in the emigrants who resort to it. To this cause also, is to be ascribed the rapidly increasing prices of those lands."

Spotswood is evidently considering moving to the Kentucky frontier, and has mentioned "vesting money in Lands No. West of the Ohio"; but, Washington points out "there is no land office at this time" in the Northwest territories, so "there is no means that land can be obtained there, at present," unless Spotswood purchases land rights granted to a veteran of the Revolution, or buys land "from some of those companies to whom Congress have sold large tracts." He adds that "in the present stage of our dispute with the Indians, that no settlement is though safe from the scalping knife, that is not under the protection of some fort. The same indeed may be said of the frontiers of Kentucky, while the central lands in that State are, as I am informed, selling very high."

The President then advises the General on selling his present lands, and confidently predicts an impending surge of investment in American lands by Europeans: "I should think it perfectly expedient-so soon as you shall have resolved to sell your lands on Rappahanock [in Virginia],--to advertise in all the principal Gazettes from Richmond to New York inclusively, and not to be too hasty in disposing of it except for a very good price; as there are reasons to believe that in the course of this winter, and the ensuing spring and summer, many men of property from Europe will remove to this country [as a result of the turmoil in France], or send over their property [capital], with a view to invest it, either in our funds, or in lands."

Published in Fitzpatrick, 34:46-48.

;
More from

The Forbes Collection of American Historical Documents