SPITFIRE P9374
The remarkable story of the discovery and reconstruction of a Supermarine Spitfire
Rediscovery
History in the sand
In September 1980 the wreckage of a Spitfire aircraft emerged from the sands of Calais beach. It had crash-landed during the Second World War. Initially, the identity of the aircraft remained a mystery but following its recovery by the manager of the nearby Hoverport in January 1981, the Spitfire was identified as P9374, an early Mk 1 version of Supermarine's finest creation. Further research established the detail of the build history of that aircraft, of its engine and of the story behind its arrival on a French beach and the background of its pilot.
Spitfire P9374 was one of a batch of 138 Spitfires built under Air Ministry contract at Supermarine's Woolston works and delivered to the RAF on 2 March 1940 before arriving at 92 Squadron at RAF Croydon four days later. At that time this famous fighter squadron was engaged on Home Defence duties.
The squadron's aircraft carried the fuselage identity letters 'GR' with P9374 being allocated the individual identity letter: 'J'. Thus, this particular Spitfire became GR-J / P9374. The Merlin III engine installed in P9374 was built at Rolls-Royce, Derby, on 27 October 1939 – tested on 2 November 1939 – with a delivery date of 6 November 1939 when it was dispatched to 14 Maintenance Unit, RAF Carlisle.
During Spitfire P9374's service with 92 Squadron it is known to have been flown by at least eight different pilots, including Sergeants Barraclough, Eyles and Fokes, Pilot Officers Bryson, Saunders and Williams and Flight Lieutenant Green. It was Pilot Officer Williams, however, who 'blooded' P9374 in action on 23 May when he claimed a Me 110 destroyed over the French coast.
Additionally, it is almost certain to have been flown at some stage by the Commanding Officer of 92 Squadron, Squadron Leader Roger Bushell, later 'Big X' of the Great Escape fame. Another man who piloted P9374 was Flying Officer Peter Cazenove who was flying the aircraft on 24 May 1940 in what was his first and last combat sortie of the war. Records show that P9374 had a total flight time of 32 hours and 5 minutes at the time of its loss.
The Great Escape
Flying from RAF Hornchurch in Essex, 92 Squadron was covering operations on the ground in what would ultimately see the fall of Calais to German troops. During this early morning sortie P9374 was hit by what is thought to have been a single bullet fired from a Dornier 17-Z bomber which holed the Spitfire's coolant system. With an overheating engine, and with no realistic hope of returning across the English Channel, Cazenove made a wheels-up forced landing at low tide on the beach near Calais.
Before executing what was a perfect belly-landing Peter Cazenove had radioed that he was OK, adding, 'Tell mother I'll be home for tea!' From where he had landed he made his way into Calais town and fought a rear-guard action with the army before the town eventually fell to the attackers and he was taken as a POW.
During his time as prisoner Cazenove made several escape attempts but was later incarcerated at Stalag Luft III from where the Great Escape was mounted. Cazenove became involved in forging documents for the escapers, but of the many scheduled to break out of the tunnel he was last on the list. His physical size led to fears that he would become stuck in the tunnel, but this may well have saved his life as the escape was discovered before Cazenove's turn came. Of those who escaped and were recaptured, 50 were executed by the Gestapo. Among them was Cazenove's CO, Roger Bushell, who had been shot down and taken prisoner on 23 May 1940.
The occupying Germans did not attempt to recover the wreck of P9374 and on successive tides the Spitfire sunk deeper into the sands until it had vanished from sight. Its re-emergence in 1980 is thought to have been the result of nearby sand dredging related to the operation of cross-channel hovercraft.
Despite its long immersion in the sand many of the recovered components, including the engine and machine guns, were found to be in remarkably good condition. Sadly, it transpired that Peter Cazenove had died shortly before the recovery of his aircraft. Not long before passing away he had remarked, 'I wonder what happened to my Spitfire and I wonder if anyone will ever find it?'
Restoration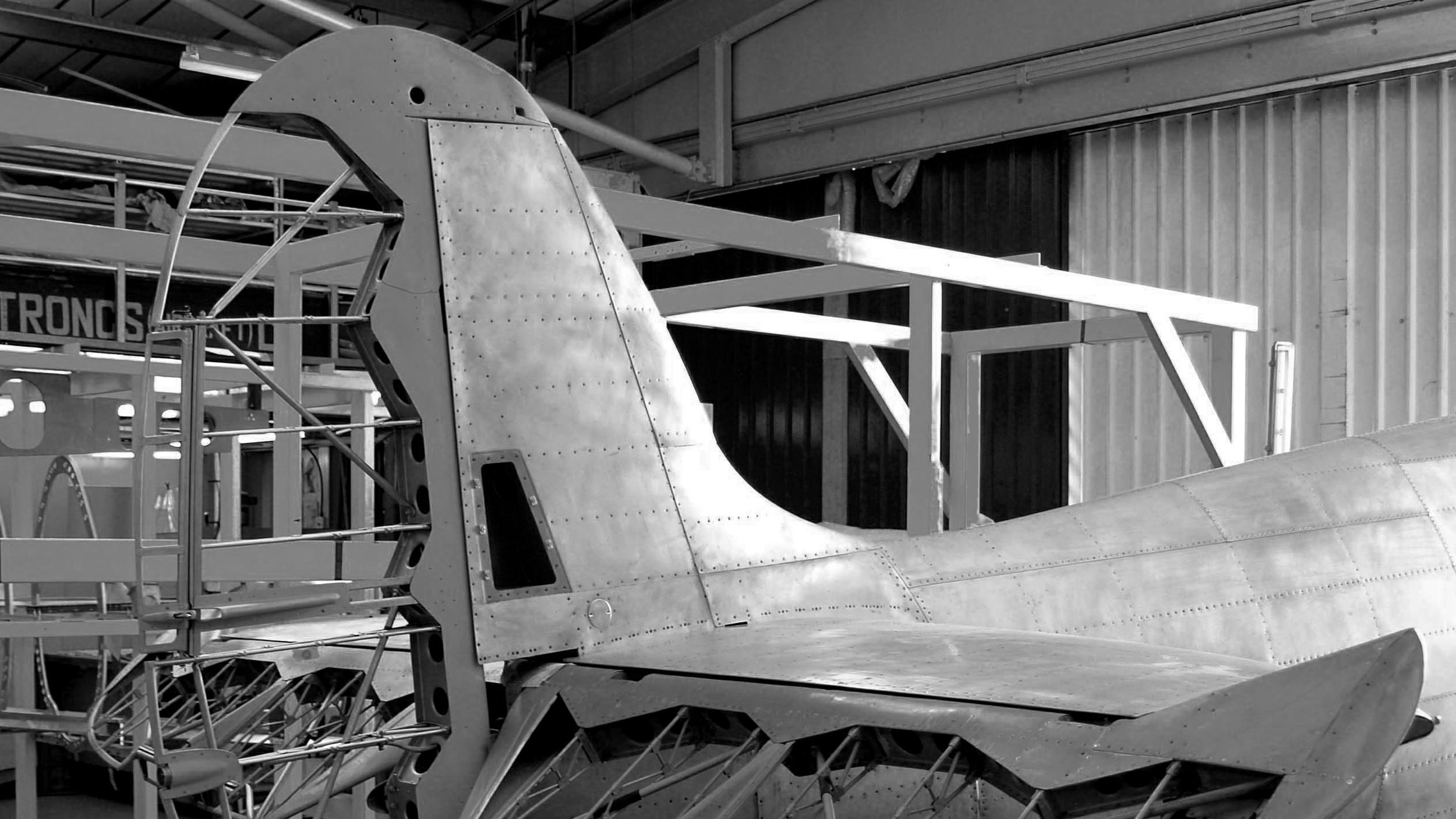 A painstaking process
Post-recovery, the Spitfire went first to the Musée de l'Air at Le Bourget, Paris, from where it was acquired by a French collector, Jean Frelaut, in 1981. It was from Frelaut's estate that the aircraft was acquired by the present owners, Mark One Partners, in 2000 and placed on the British Civil Aircraft Register as G-MKIA that year.
There followed a meticulous reconstruction, the motto for which was surely 'attention to detail'. This process involved a 100 per cent faithful following of the build and fit, down to sourcing correctly dated instruments and equipment. If a piece of kit was the correct type but, say, dated 1940 or 1941 then it was discarded in favour of a correctly dated item. This meticulous policy even ensured that the ammunition for the guns is correctly dated.
Where possible, original components from the wreck of P9374 were included. The fuselage 'tube' was constructed by Airframe Assemblies on the Isle of Wight, not far from its original birthplace, with the wings being built at Duxford in 2007 by the Aircraft Restoration Company. The fuselage and wings were married up at Duxford in July 2008 where P9374 was fitted out, painted and finished. The engine and propeller had been re-engineered and constructed by Retro-Track & Air of Cam, Gloucestershire, and successful ground-runs of the installed engine were conducted in June 2011. Many components from the original engine of P9374 were incorporated into the build.
The completed aircraft was first flown at Duxford on 1 September 2011 by John Romain who later remarked of P9374, 'This is a fantastic restoration to be justifiably proud of Spitfire P9374 is a truly lovely aircraft, and she flies beautifully.'
Andy Saunders, author of Spitfire Mark 1 P9374 (Grub Street Publishing, London 2012)
A symbol of Britishness
The famously stiff upper lips of the RAF tended to wobble a bit when it came to the subject of their Spitfires. There was never 'a plane so loved by pilots,' wrote Hugh Dundas, who flew one with 616 Squadron in the Battle of Britain. Fighter Boys talked about their 'Spits' as if they were women. 'She really was the perfect flying machine,' remembered George Unwin, another veteran of the Battle. 'She really hadn't a vice at all... I've never flown anything sweeter.'
If any object deserves the overused accolade of 'iconic' it is surely the Supermarine Spitfire. It combined speed and manoeuvrability with a unique capacity for development, and was in service from the first to the last day of the Second World War, going through many improvements and variations. It was beautiful, too. Nobody could fail to appreciate the curves of its elliptical wings and the refinement of its long, Borzoi nose. It soon came to be seen as a symbol of Britishness: small, perhaps, but resolute and packing a powerful punch.
In the early days of the war it was an emblem of hope. The Germans seemed unstoppable, better organised than the British, better equipped and driven by an insatiable thirst for conquest. But when it came to fighter aircraft we had them licked. We had the Spitfire and they did not and perhaps all would come right in the end.
The Spitfire was the brainchild of Reginald Mitchell, who left school in Kidsgrove, Staffordshire, aged 16 to start an engineering apprenticeship. By the early 1930s he was chief designer at Supermarine Aviation, a subsidiary of Vickers-Armstrongs, based at Woolston, Southampton, where he worked on world-beating racing seaplanes. When the Air Ministry announced it was seeking a high-speed, all-metal monoplane fighter, Mitchell went to work. After much trial and error, his thin-winged design, teamed with a Rolls-Royce Merlin engine and eight Browning machine guns, was accepted in June 1936 and the Spitfire was born. Mitchell, died a year later of cancer, aged 42.
The first Spitfires arrived on the squadrons of Fighter Command in August 1938. It was of course the more homely Hawker Hurricane that bore the brunt of the German assault in the Battle of Britain, though the better performing Spitfire had a higher victory-to-loss ratio, and it was the Spit that Britain took to its heart. Thereafter it was the mainstay of Fighter Command, flying wherever the RAF was in action.
Patrick Bishop, military historian and author
Take Off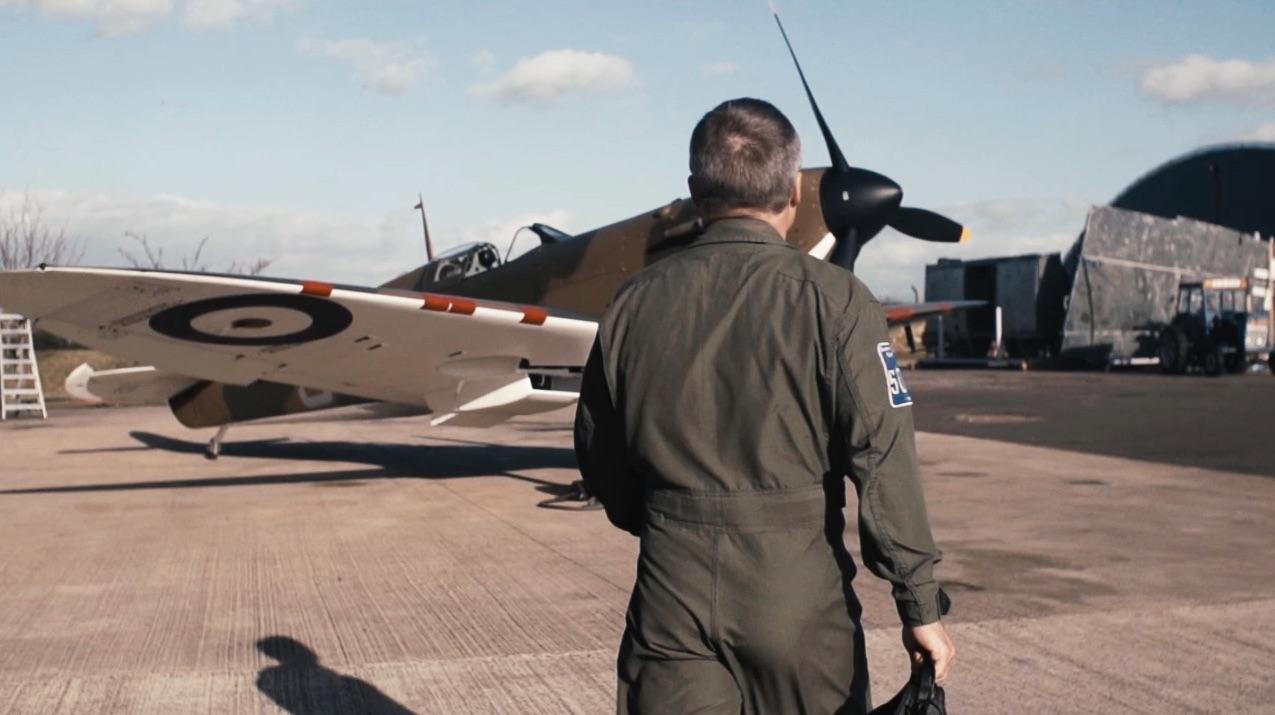 'You don't get into a Spitfire,
you put it on'
John Romain, Pilot
SUPERMARINE SPITFIRE MK. 1A – P9374 / G-MKIA
Estimate £1,500,000–2,500,000
THE EXCEPTIONAL SALE
Christie's, London, King Street Thursday 9 July 2015
Presenters
JAMES HOLLAND
JODIE KIDD
Director
THOMAS PULLEN
Cameras
TOM SWINDELL
TIAGO KINGWELL
Sound
RICHARD EADES
Music
NIKKY FRENCH
Film Editor
SAMI ABUSAMRA
MATT SCHOLES
Text Editor
DAN DAVIES
Digital Designers
LEON ST-AMOUR
ERIC AHNEBRINK
HUMFREY BRANDES
Producers
SUSAN DOYON
NICK ALDRIDGE
Executive Producer
JANE BURTON
Gramafilm and Christie's
All archival images courtesy of Peter R Arnold, Col Pope, Andy Saunders and Grub Street Publishing.
All aerial footage and stills copyright 2011, John Dibbs
Copyright Christie's 2015