Event Date16 October 2014 | Live auction 1582
Sale Overview
The Italian Sale achieved £27,584,000 / $43,968,896 / €34,342,080 - the highest ever total for an auction of 20th century Italian art. It was 88% sold by lot and 88% by value against a pre-sale estimate of £22.4 million - £32.3 million.The top price was paid for Alighiero Boetti's Colonna, from 1968, which sold for £2,434,500 / $3,880,593 / €3,030,953 and set a world record price for the artist at auction. 6 artist records were set for works by Alighiero Boetti, Marina Apollonio, Agostino Bonalumi and Piero D'Orazio.
Full results can be found in the separate top ten document.

Mariolina Bassetti, Chairman Christie's Italy: Building on the success of last years' Italian sale and of the single owner auction 'Eyes Wide Open: An Italian Vision' in February 2014, which made 14 artist records, we are proud to maintain our status as market leaders in Post-War Italian art. The 14th edition of Christie's Italian Sale realised a total of £27.5 million, smashing the previous record for the category. Over the years, the Christie's team has built the strength of the Italian Sale on strong foundations of art historical research and curatorial values. The Italian Sale continues to offer exceptional works from Italian modern and contemporary art, which continues to attract an increasingly international audience. We are pleased that the group of works by Alighiero Boetti realised a combined total of £4.8 million and that the Private Collection 'Mapping Modern Art in Italy' achieved such a strong result of £8.3 million. The numerous record prices set tonight prove the gradual and healthy growth of the Post War and Contemporary Italian art market, from artists that are relatively new to the auction house market such as Paolo Scheggi and Marinoa Apollonio to the most significant sculpture by Alighiero Boetti's entitled Colonna, which set a world auction record for the artist. Alberto Burri's Combustione plastica, a true masterpiece of Italian 20th century art, has also rightly attracted great interest and achieved an impressive price ahead of the great retrospective which the Guggenheim Museum will dedicate to the artist in 2015.
How to find us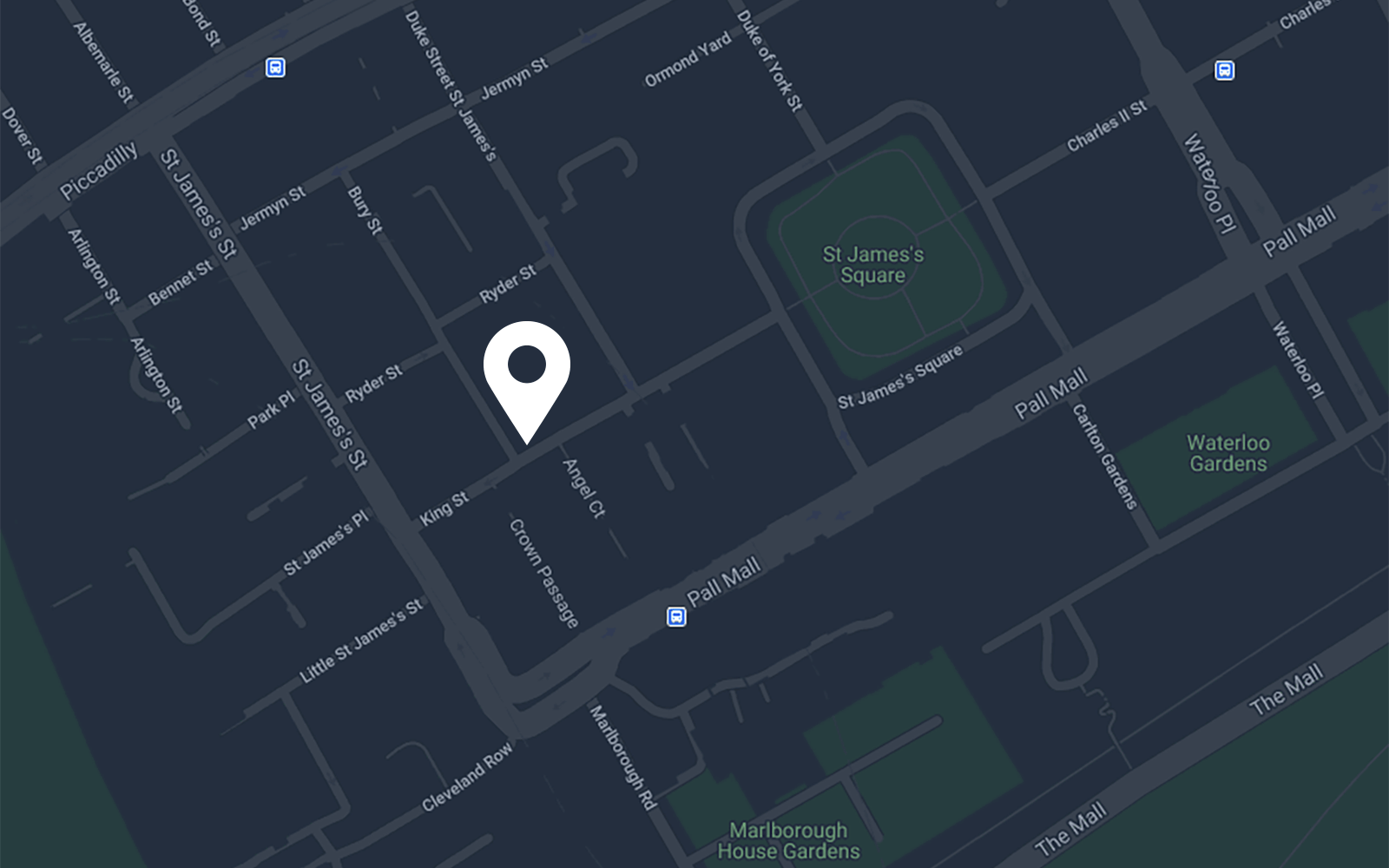 Address
8 King Street St. James 's