Lot Content
COVID-19 Important notice
Read more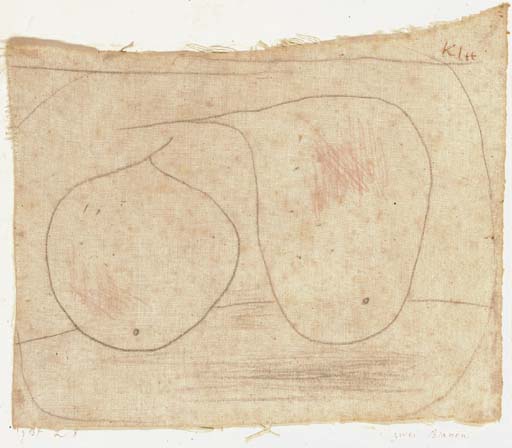 VAT rate of 5% is payable on hammer price plus bu… Read more
Property from a Private American Collection 
Paul Klee (1879-1940)
Zwei Birnen
Details
Paul Klee (1879-1940)
Zwei Birnen
signed 'Klee' (upper right); dated, numbered and titled '1934 L8 Zwei Birnen' (on the artist's mount)
pencil and crayon on cotton laid down on the artist's mount
image: 7¾ x 10 in. (19.7 x 25.4 cm.), irregular; including mount: 10¾ x 12 3/8 in. (27.5 x 31.5 cm.)
Executed in 1934

Provenance
Otto Ralfs, Braunschweig, 1934.
Lily Klee, Bern, 1940-1946.
Klee Gesellschaft, Bern, 1946.
Galerie Louise Leiris, Paris (no. 982).
Robert Urbye, Oslo, 1958.
Kunsthandel Lambert Tegenbosch, Heusden aan de Mass (no. 81.49).
Anon. sale, Sotheby's, London, 1 July 1981, lot 326.
Anon. sale, Sotheby's, London, 19 March 1997, lot 46.
Acquired at the above sale by the present owner.

Exhibited
London, The Mayor Gallery, Drawings by Paul Klee, May 1952, no. 15. Geneva, Galerie du Perron, Paul Klee (1879-1940), July 1960, no. 14.

Special Notice

VAT rate of 5% is payable on hammer price plus buyer's premium.
Lot Essay
This work is recorded at the Klee Stiftung, Bern under no. 1934.48.L8.

;
More From

Impressionist and Modern Art Day Sale