Lot Content
Global notice
COVID-19 Important notice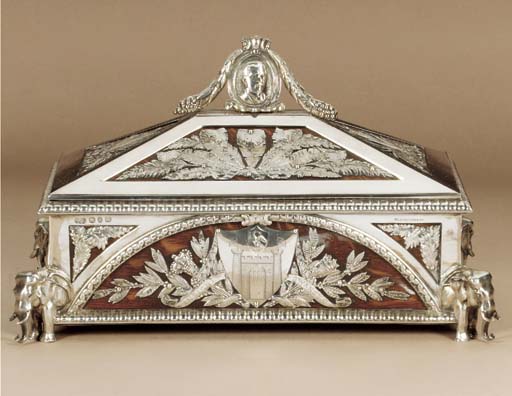 No VAT will be charged on the hammer price, but VA… Read more
FREEDOM OF THE BOROUGH OF SWANSEA, October 1892
Details
FREEDOM OF THE BOROUGH OF SWANSEA, October 1892

A Victorian silver-mounted mahogany Liberty Casket, the sides applied with arched and a shield embellished with stiff-leaf and bud decoration, the front with the arms of the city of Swansea, the reverse with engraved inscription 'Presented by the Mayor Aldermen & Burgesses of the Borough of Swansea in the County of Glamorgan to Henry M. Stanley, Esq. on the Occasion of his Admission to the Honorary Freedom of the Borough 3rd Oct. 1892', between gadrooned borders, the corner with feet shaped as tusked elephants, the domed hinged cover applied with stiff leaves within compartments, the finial of a portrait of Stanley with leaf and bud garlands, boxed with maroon velvet and silk lining, by Elkington & Co., Birmingham, 1890. 12in. (30.5cm.) long, 69oz. (2,175gr.) gross

Enclosed in the casket is the original vellum scroll granting the Freedom of the Borough to H.M. Stanley, dated 11th July 1890. The gift of the freedom of the borough although given in July 1890, was not formally received until Stanley's visit to South Wales in October 1891.

Special Notice

No VAT will be charged on the hammer price, but VAT at 17.5% will be added to the buyer's premium which is invoiced on a VAT inclusive basis
;
More from

THE AFRICAN SALE INCLUDING HENRY MORTON STANLEY COLLECTION