Browse Lots
Global notice
COVID-19 Important notice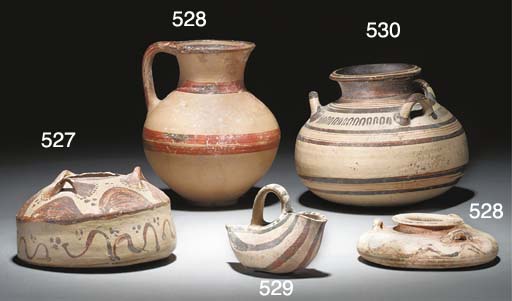 VAT rate of 5% is payable on hammer price plus bu… Read more
A MYCENAEAN POTTERY BIRD-SHAPED ASKOS
14TH-12TH CENTURY B.C.
Details
A MYCENAEAN POTTERY BIRD-SHAPED ASKOS
14TH-12TH CENTURY B.C.
The buff-coloured vessel in the shape of a bird wth pointed tail, the oval-shaped spout at the neck end, an arching strap handle attached to the back, the whole with painted black linear decoration and freer strokes under the handle in imitation of a bird's contour; and a wine-skin askos, with similar handle, with orange wavy line decoration, circa 14th Century B.C.
5 in. (12.8 cm.) and 6 in. (15.3 cm.) long respectively (2)

Provenance
Acquired in 1978.

Special Notice

VAT rate of 5% is payable on hammer price plus buyer's premium
Lot Essay
PUBLISHED:
Item two: Antiken, Galerie Heidi Vollmoeller, Zurich, 1985, 4, no. 26.

;
More from

THE HEIDI VOLLMOELLER COLLECTION