Lot Content
Global notice
COVID-19 Important notice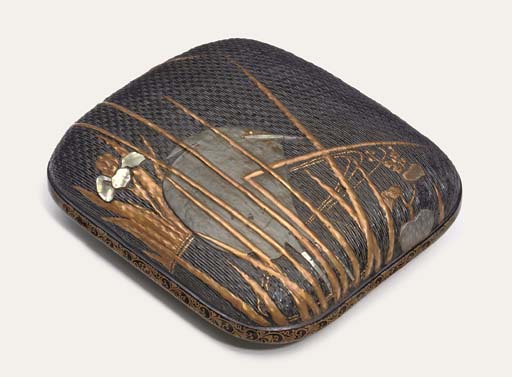 Buyers from within the EU: VAT payable at 17.5% o… Read more
A BASKETWORK BUNKO [BOX FOR STATIONERY]
UNSIGNED, EDO PERIOD (17TH-18TH CENTURY)
Details
A BASKETWORK BUNKO [BOX FOR STATIONERY]
UNSIGNED, EDO PERIOD (17TH-18TH CENTURY)
The black lacquered basketwork ground decorated in takamaki-e, lead and raden with a heron standing in a stream amid iris, water hollyhock and reeds, the rims of the box and cover with karakusa in gold hiramaki-e over roiro, the interior with butterflies flying over pampas grass and the edges in fundame
27.3cm.

Literature
For a similar bunko, but without any decoration apart from the rims, see Illustrated Catalogues of Tokyo National Museum, Lacquered furniture: Stationery (Tokyo, 1985).
The interior and rims are in the style of the studio of Hon'ami Koetsu, 1558-1637, and the decoration on the top of the cover may have been added in the 18th century, probably by Nagata Yuji; the interior of the cover of a suzuribako by Yuji is illustrated in Nihon no Shitsuge, Vol. IV; the work in the takamaki-e and the shell and lead inlays is very similar to the work on the present piece.
A similar box, from the period 1600-1615 is illustrated in The Metropolitan Museum of Art, East Asian Lacquer, The Florence and Herbert Irving Collection, (New York, 1992).

Special Notice

Buyers from within the EU: VAT payable at 17.5% on just the buyer's premium (NOT the hammer price) Buyers from outside the EU: VAT payable at 17.5% on hammer price and buyer's premium. If a buyer, having registered under a non-EU address, decides that an item is not to be exported from the EU, then he/she should advise Christie's to this effect immediately.
;
More from

Japanese Art and Design Including an Important 17th Century