Lot Content
COVID-19 Important notice
Read more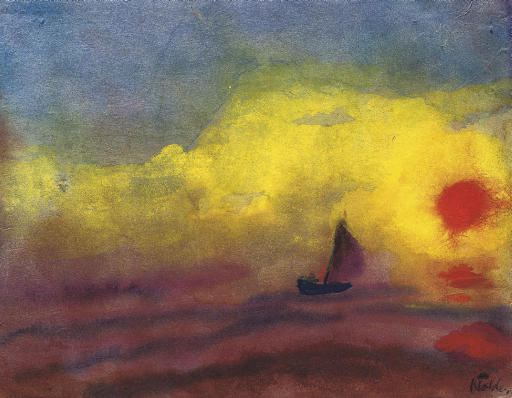 No VAT will be charged on the hammer price, but VA… Read more
PROPERTY FROM THE MAURICE AND VIVIENNE WOHL COLLECTION SOLD TO BENEFIT THE MAURICE AND VIVIENNE WOHL PHILANTHROPIC FOUNDATION
Emil Nolde (1867-1956)
Segler und sinkende Sonne
Details
Emil Nolde (1867-1956)
Segler und sinkende Sonne
signed 'Nolde.' (lower right)
watercolour on Japan paper
8 1/8 x 10½ in. (20.9 x 26.8 cm.)
Executed in St Peter in Eiderstadt in 1946

Provenance
Nolde Stiftung, Seebüll, until 1968.
Gallery Alex Vömel, Düsseldorf.
Siegfried Adler, Lugano.
Mr & Mrs Ramm, Germany.
M. Knoedler & Co. Ltd., London & New York (no. WCA 3862/19624).
Acquired from the above by Maurice and Vivienne Wohl in November 1968.

Special Notice

No VAT will be charged on the hammer price, but VAT at 15% will be added to the buyer's premium which is invoiced on a VAT inclusive basis.
Lot Essay
This work is sold with a photo-certificate from Dr Manfred Reuther from the Nolde Stiftung, Seebüll.

More From

Impressionist and Modern Works on Paper