Lot Content
COVID-19 Important notice
Read More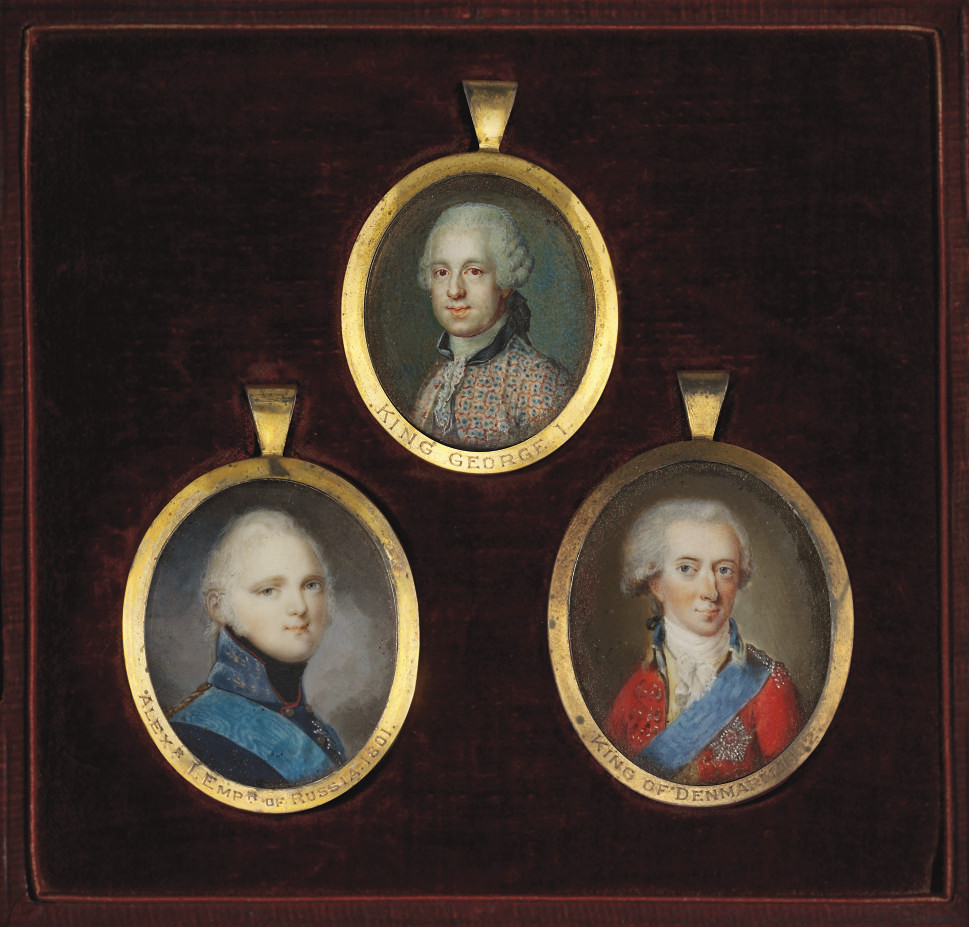 No VAT will be charged on the hammer price, but VAT at 15% will be added to the buyer's premium which is invoiced on a VAT inclusive basis.
THE COLLECTIONS OF A DIPLOMAT AND A COURTIER The eldest and youngest brothers of an ancient Derbyshire family, the FitzHerberts of Tissington, were scions of the Age of Enlightenment. Both educated at St. John's, Cambridge, they were friends of luminaries such as Dr. Johnson, Thomas Gray, and Jeremy Bentham. Each went on the Grand Tour, the elder as companion to his fellow Derbyshire landowner, the 5th Duke of Devonshire; the younger as a travelling scholar prior to entering the diplomatic service, and both were patrons of the great artists and craftsmen of the age. The offices they held at home and abroad rewarded them with gifts given both in gratitude and as representations of the power of the King they served. The collections of these two men chronicle their careers through the gifts they received and the tools of power they were equipped with, as well as epitomising the ideals of collecting art for its own sake. William FitzHerbert III (1712-1772) with his wife Mary, of whom Dr. Johnson pronounced he knew no woman "of sounder understanding", the parents of William, later 1st Bt., and Alleyne, later 1st Baron St. Helens, undoubtedly inspired the brothers' passion for amassing a broad range of works of art and literature. It was most probably he who commissioned the Titchfield Street chair-maker John Hobcraft to produce a number of pieces of furniture including a set of antiquarian Gothic mahogany dining-chairs (lot 600) to sit alongside the magnificent Hopton stone chimney-piece made in 1757 by Joseph Hall of Derby for the hall at Tissington. He also leased the house where Alleyne had been born (and which was the basis of the title which the same was to adopt upon his elevation to the Irish and then the English peerage), Old St. Helens House in Derby, to the artist Joseph Wright of Derby. Moreover, it was probably their father who commissioned a portrait of the young Alleyne as a boy from the Swiss artist Angelica Kauffman, as well as two portraits of his daughter Selina FitzHerbert (1752-1823), later Mrs Henry Gally Knight, one of which was listed in the 1775 inventory of Tissington as in the Withdrawing Room - 'Miss FitzHerbert in Ditto [a guilt (sic.) frame]' (lot 597). William FitzHerbert IV (1748-1791), later 1st Bt., followed in his father's footsteps after university, first being called to the Bar and then as Recorder of Derby and Gentleman Usher to George III. This, however, was not before embarking on the Grand Tour with his friend and neighbour William Cavendish, 5th Duke of Devonshire (1748-1811) in 1768-9. They travelled via Paris to Turin, Venice, Florence, Rome and Naples. In Florence FitzHerbert commissioned a caricature portrait by Thomas Patch, The Music Lesson, which included his companion the Duke and their guide Henry Lyte. In Rome he commissioned separate portraits of himself and the Duke from Pompeo Batoni, the latter being later presented to the Duke at Chatsworth just before his death in 1810 by Sir William's younger son Sir Henry FitzHerbert, 3rd Bt. (1783-1858). William most probably also acquired a number of bronze reductions after the Antique as was the trend amongst Grand Tourists, such as those of a philosopher, a centaur, Flora, Venus and Bacchus (lots 508-512). Some of these could have been acquired on a later trip to Italy taken with his wife Sarah (m. 1777), or by his brother Alleyne on his own Grand Tour, but those of a philosopher and a centaur are probably the busts listed in both the 1770 and the 1775 inventories as '2 large mahogany therms or pedestals & Busts' in the Great Hall, and therefore purchased by him on his first trip. Clearly a champion of local craftsmen and their materials - like other Derbyshire landowners - Sir William FitzHerbert acquired three Blue John urns of varying proportions, a mineral found only in that shire (lots 518-520). As Gentleman Usher in Extraordinaire to George III in 1773 FitzHerbert was given a pair of huge portraits of the king and queen from the studio of Allan Ramsay which still hang at Tissington Hall. An intellectual and barrister as well as a courtier, he wrote several books, including Maxims and Reflections (1784), and Short Enquiry into showing the origin and ancient privileges of Knights Banneret (1779), and rather prophetically was granted a baronetcy in 1784 for his service to the King. A disagreement with the Lord Chamberlain shortly afterwards caused him to leave Court and return to life in Derbyshire where he remained until his death in 1791. The younger and better-known of the two brothers, Alleyne FitzHerbert (1753-1839), later 1st Baron St. Helens, gained his forename from his maternal great-grandfather Thomas Alleyne, unfashionably (in today's terms) the owner of a large sugar producing estate in Barbados. He was educated at Derby School from 1763 to 1766, but then proceeded to Eton before going up to St. John's Cambridge where he took his degree in 1774 and where he made the acquaintance of the poet Thomas Gray, who wrote of him to Mason: "the little FitzHerbert is come as pensioner to St. John's, and seems to have all his wits about him." Thereafter, FitzHerbert went on the Grand Tour through France and Italy, building up a fine collection of works of art and manuscripts and honing his connoisseurship in the process. In February 1776 FitzHerbert was in Naples, where he was visited by his literary and radical older cousin, Brooke Boothby (1744-1824), later 6th Bt. and a friend of Rousseau. In Italy he crossed paths with Joseph Wright, whose lawyer father was a friend of William FitzHerbert. The Derby artist is said to have painted Alleyne, but the portrait does not survive for, two decades later on 16 July 1797, his house in London was destroyed by fire. "He has lost," wrote the newly created Lord Minto, "Every scrap of paper he ever had. Conceive how inconsolable that loss must be to one who has lived his life. All his books, many fine pictures prints and drawings in great abundance, are all gone". Whilst Minto's account specifies only documents, others aver that many of his other possessions were lost too. Yet, as this sale so richly attests, FitzHerbert was able to begin amassing a fresh collection. Nor was his loss quite as drastic as Lord Minto implies, for a number of items would seem to pre-date the fire. It may be they were lodged elsewhere, or in store; either way they are precious survivals from his more youthful phase. In February 1777 he entered the diplomatic service, and at that time may have acquired his gold mounted stick (Lot 503), as it dates from the year of his appointment as First Secretary in Brussels, where he remained until 1782. He then proceeded to Paris for some crucial months as minister plenipotentiary. His brief was to try and bring about a peace with France and Spain which had joined with the American colonies in the American Revolutionary War. Not only did he, working entirely behind the scenes, bring about the coup of a lifetime by obtaining exceptionally favourable terms, but in the same negotiations he also successfully laid the foundation of the final peace treaty with the American colonists. This was largely thanks to his excellent relations with the British American envoy to Paris, Benjamin Franklin, whose own links with Lunar Society luminaries John Whitehurst (1713-1788) and Dr. Erasmus Darwin (1731-1802) - both of whom lived in Derby and knew his family well - were exceptionally close. The gold and enamel mounted Parisian tooth-pick box dates from this time and may have been acquired there (Lot 523), as well as the miniature portrait of Louis XVI dated 1782 (Lot 502) which was presented to him. Ida, daughter of Sir William FitzHerbert, 4th Bt., records this in her 'Book of Pictures and Curios at Tissington Hall', 1887, and notes that originally the miniature was surrounded by diamonds which were later replaced in paste. In Paris FitzHerbert may also have acquired some of the early Vincennes and Sèvres porcelain (lots 528-533). His role in the Treaty of Paris brought him rapid promotion, and he was sent as envoy extraordinary and plenipotentiary to Catherine the Great of Russia in 1783 where he stayed for almost five years. These were fruitful years, insofar as he managed to accumulate, through gifts and purchases, a number of items included in the present sale. Some gifts came from people with whom he had to work, such as the Empress's favourite Prince Grigori Potemkin-Tavricheski (1739-1791), the great statesman, advisor and sometime lover of the Empress who gave FitzHerbert the pair of Brescian pistols (lot 591). It is likely that the portrait of the Empress (lot 589) was presented to FitzHerbert by Catherine herself on his departure in 1787. There he may also have acquired a set of Stirpium Imperii Rossici (Pedigree of the Imperial Russian House), published in St. Petersburg in 1784 (Lot 668). On arrival in Russia, he met his close contemporary Simon, 3rd Count Woronzow (1752-1832). On FitzHerbert's eventual retirement in 1802, Woronzow was then in the sixth of ten years as Ambassador to the Court of St. James in London and they were able to renew their acquaintance, as the Count frequented London thereafter, being the father-in-law to the George Herbert, 11th Earl of Pembroke. On his Russian friend's death, FitzHerbert (by then Lord St. Helens) acquired the tortoiseshell-mounted Roman micro-mosaic snuff-box with its memorial inscription to Woronzow on the inside (lot 522). There followed in 1787-1789 a stint for some two years as Chief Secretary of Ireland under the new Lord Lieutenant, the 1st Marquess of Buckingham. For this, he was appointed to the Privy Council and sat in the Irish House of Commons as MP for Carysfort (now Macreddin) Co. Wicklow from 1788. It may have been at this time that he acquired the Irish George II secretaire-cabinet (Lot 515) to work at in the Viceregal office; if so, it managed to survive the fire; perhaps he kept on his rented Dublin House for some time after his early departure to The Hague as envoy extraordinary and minister plenipotentiary in 1789. Alternatively, the secretaire's existence at Tissington may be explained by the fact that it once belonged to George 'Fighting' Fitzgerald, to whom William FitzHerbert (later 1st Bt.) leased the hall between 1775 and 1780. Fitzgerald, who was an unsavoury character and was later executed in 1786 for the murder of Patrick MacDonnell, failed to pay any rent until after the end of his tenure, and indeed the possessions he had brought with him to the hall were locked in the attic until his bills had been settled. The secretaire may therefore have been left at Tissington in lieu of monies owed. The move to The Hague meant that his career as an Irish MP was unsustainable, even in an age of pluralism, and a further posting to Madrid at the end of 1790 caused him to resign his seat. In consequence the following January he was elevated to the Irish peerage as 1st Lord St. Helens 'of St. Helens, Co. Dublin', on his own testimony taking his title from the house in Derby in which he had been born, even though the heralds insisted on an Irish territorial element to the baronetcy. Concomitant with his elevation, his most prestigious posting ensued, as Envoy to the Kingdom of Spain. Here he was instrumental in solving the Nootka Sound crisis, which was a potentially serious dispute over Spanish opposition to the likely British exploitation of the whaling potential of what later became Vancouver Island, Canada. The Spanish claimed the whole of the North West coast of America as an extension of their then colony of California, but lack of support from the French caused them to back down in the negotiations. It was then that he met a young naval commander, George Vancouver. Vancouver, who earlier in his career had sailed twice with Captain Cook, later in 1792 commanded an expedition to survey the Pacific North West, in the process of which he became the first European to see a 9,671 ft. dormant volcano in the mouth of the Columbia River, which he named Mount St. Helens after his friend. This encounter between these two men explains the presence of a complete (6 volume) set of Vancouver's Voyage of Discovery (lot 678) in St. Helens' collection. St. Helens obtained much to equip his Embassy in Madrid, especially silver, notably the silver kettle, stand and lamp (lot 574), six oval salt cellars (lot 573), three Sheffield plate wine coolers (lot 575) and the spectacular table service (lots 576-9). The fact that the kettle and salt cellars were all supplied by Andrew Fogelberg and Stephen Gilbert goes a long way to support this. Furthermore, the acquisition of a fine silver tankard (lot 571) may date from the same period. In Madrid St. Helens acquired a large collection of drawings by Murillo from the Seville Cathedral Library, many of which were sold after his death in 1839 at Christie's. There he also probably acquired a pair of pictures of Saints Justa and Rufina, after Murillo (lot 582). At the end of 1794, St. Helens was back in London, and Sir Brooke Boothby encountered him dining with Charles Ellis (later 1st Lord Seaford) in Mayfair in May 1795 and again with the Earl and Countess of Malmesbury nearby in the July, when his sister, Selina, Mrs. Henry Gally Knight was also present, along with George Canning, a particular friend. It was during this five year period in London that his house burned down - and one can only presume that from 1797 he embarked on a voracious spending spree to rebuild and refurnish his new house in Grafton Street. In 1801 St. Helens returned to St. Petersburg and the court of the new Tsar Alexander as ambassador for two years. With the union of Great Britain and Ireland in 1801, the Irish Parliament had ceased to exist, and in compensation, as well as in recognition for his service in St. Petersburg, Alleyne FitzHerbert was raised to the English peerage as Lord St. Helens 'of St. Helens in the Isle of Wight'. Possibly at least one of the fob seals was acquired to mark this development (lots 605-609). It was on this tour to St. Petersburg that he probably acquired the set of four matching Russian silver candlesticks dated 1801 (lot 588), the travelling miniature set of allied monarchs and their forebears (lot 501) and, for use at the Embassy, the silver coffee kettle (lot 587). At the termination of this posting, in late 1802, he retired from diplomacy and became Lord of the Bedchamber to George III. Items from this phase of his life include gifts from the Royal Family, notably the gold-mounted micro-mosaic bonbonnière from Queen Charlotte (lot 526), the portrait of Queen Charlotte in old age given to St. Helens in 1818 (lot 601) and the mounted tortoiseshell snuff box given to him by the Prince of Wales (lot 527). As well as St. Helens' close friendship with King George III, Queen Charlotte, and the Prince Regent, he was a valued confidant of Princess Elizabeth and received a portrait of her by Bone as a gift from the princess (lot 602). The princess regarded St. Helens as her "dear and invaluable saint", and wrote in a letter to Lady Harcourt in 1808 "It is always holiday with me when he is here, for I love him to my heart and may say itThere is no man of my acquaintance I love so well, and his kindness to me is never varied, and that is a thing I never forget. His advice is my rudder, his approbation my delight". Though at one time engaged to Louisa Hervey, daughter of the Earl-Bishop of Derby and younger sister of Elisabeth, 2nd wife of the 5th Duke of Devonshire, Lord St. Helens died unmarried at his house in Grafton Street, Mayfair, on 19th February 1839, aged 85. He had no country seat as "he could not live out of London" and his friends there were very numerous. In later life he seems to have favoured the radicalism of his father and friends included the radical Jeremy Bentham, one of whose protégés was Edward Strutt MP (later 1st Lord Belper) - born in the new St. Helens House at Derby, opposite the site of FitzHerbert's birthplace. His "consummate prudence and quiet polished manners", essential to a supremely gifted diplomat in an age when diplomacy was at a premium, meant that St. Helens had few equals in his time. His negotiating skills were unerring and in a crisis he could keep a clear head and apply sound judgement. The extrication of Great Britain with some honour and reasonable credit from the conflicts surrounding American independence was masterly. Later in his career, though, he came under fire for being too laid back about detail and even for tardiness in replying to letters. His connoisseurship and taste were never in question, and as his friend and cousin Sir Brooke Boothby attested "Lord St. Helens has an excellent Classical taste". Today we can be thankful that, despite the loss of his home and its contents in 1797, many fine elements of personalia and of his collections have come down to us, thanks to the care and prudence of his heirs. By Maxwell Craven, October 2008
A FRAME CONTAINING THREE PORTRAIT MINIATURES
Tsar Alexander I (1777-1825), in black uniform with blue collar, gold epaulettes, wearing the blue moiré sash and breast-star of the Imperial Russian Order of St Andrew, powdered hair (Attributed to Gerhard von Kügelden, German, 1772-1820); King Christian VII of Denmark (1749-1808), in red uniform with blue collar, yellow waistcoat, wearing the blue moiré sash and breast-star of the Royal Danish Order of the Elephant, white lace cravat, powdered wig en queue secured with a black ribbon (Danish School, circa 1770); and a Royal or noble sitter called George I, in embroidered coat with black collar, white lace cravat, bag wig (German School, circa 1770/1780)
Details
A FRAME CONTAINING THREE PORTRAIT MINIATURES Tsar Alexander I (1777-1825), in black uniform with blue collar, gold epaulettes, wearing the blue moiré sash and breast-star of the Imperial Russian Order of St Andrew, powdered hair (Attributed to Gerhard von Kügelden, German, 1772-1820); King Christian VII of Denmark (1749-1808), in red uniform with blue collar, yellow waistcoat, wearing the blue moiré sash and breast-star of the Royal Danish Order of the Elephant, white lace cravat, powdered wig en queue secured with a black ribbon (Danish School, circa 1770); and a Royal or noble sitter called George I, in embroidered coat with black collar, white lace cravat, bag wig (German School, circa 1770/1780) on ivory ovals, 1½ in. (38 mm.), 1 9/16 in. (39 mm.), 1 3/8 in. (34 mm.) high respectively, gilt-metal frames within a fitted hinged red leather case, each frame engraved with sitter's name (3)
Provenance
Alleyne FitzHerbert, 1st Baron St. Helens (1753-1839), circa 1801, probably acquired for his embassy to Russia.

Literature
Catalogue of Pictures and Curios at Tissington Hall, 1887, by Ida, daughter of Sir William FitzHerbert, 4th Bt., as 'Small medalion miniature of King of Denmark belonging to Lord St. Helens', and 'Small miniature loose in case of George Ist (?)'

Special Notice

No VAT will be charged on the hammer price, but VAT at 15% will be added to the buyer's premium which is invoiced on a VAT inclusive basis.
More From

Lord St. Helens and Sir William FitzHerbert The Collections of a Diplomat and a Courtier