Lot Content
COVID-19 Important notice
Read More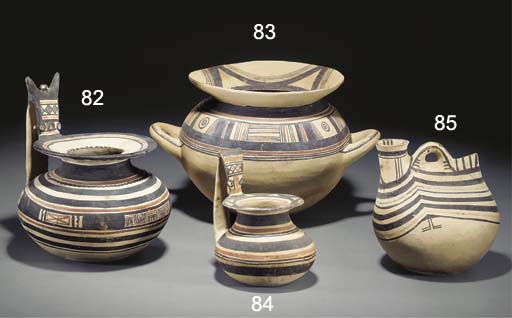 No VAT will be charged on the hammer price, but VAT at 17.5% will be added to the buyer's premium which is invoiced on a VAT inclusive basis
A DAUNIAN POTTERY JAR
CIRCA EARLY 6TH CENTURY B.C.
Details
A DAUNIAN POTTERY JAR CIRCA EARLY 6TH CENTURY B.C. The squat bulbous body with wide rim and high looped strap 'horned' handle, possibly representing a human figure with arms upraised and decorated with frieze of cross-hatched lozenges, painted brown and orange, with dots around the jar's mouth, encircling bands, wavy line around the neck, the middle with 'metopes' infilled with short zigzags, crossed rectangles and meander, repaired 11 in. (28 cm.) high
Provenance
Acquired during the 1970s.

Special Notice

No VAT will be charged on the hammer price, but VAT at 17.5% will be added to the buyer's premium which is invoiced on a VAT inclusive basis
;
More From

Antiquities, Including an English Private Collection of