Browse Lots
COVID-19 Important notice
Read more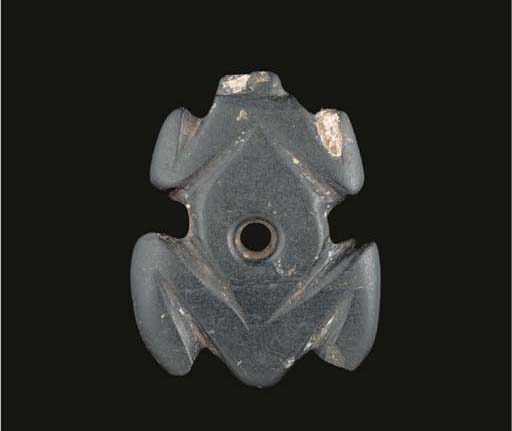 VAT rate of 5% is payable on hammer price plus bu… Read more
A MESOPOTAMIAN BLACK STONE AMULET OF A FROG
3RD-EARLY 2ND MILLENNIUM B.C.
Details
A MESOPOTAMIAN BLACK STONE AMULET OF A FROG
3RD-EARLY 2ND MILLENNIUM B.C.
Of stylized flattened form, with forelegs and hind legs tucked close to body, pierced vertically through centre, 2 3/8 in. (6 cm.) long; a Hittite black stone stamp seal, the base with two quadrupeds, foliate branch behind, grooved suspension loop, late 2nd-early 3rd millennium B.C.; and three Near Eastern amulets, comprising two stylized frogs, cream stone and blackened bone, pierced, and a stylized bone tortoise, 3rd-2nd Century B.C., 7/8 in. (2.2 cm.) across max. (5)

Provenance
Acquired in 1960 (item one) and 1956 (item two).

Special Notice

VAT rate of 5% is payable on hammer price plus buyer's premium
;
More From

THE HEIDI VOLLMOELLER COLLECTION