Lot Content
COVID-19 Important notice
Read More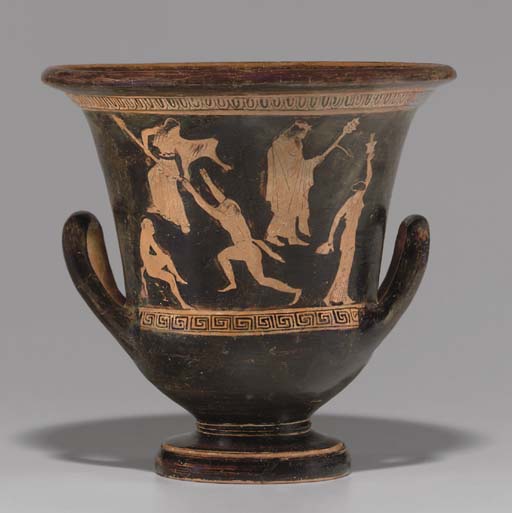 AN ATTIC RED-FIGURED CALYX-KRATER
ATTRIBUTED TO THE PHIALE PAINTER, CIRCA 440-435 B.C.
Details
AN ATTIC RED-FIGURED CALYX-KRATER ATTRIBUTED TO THE PHIALE PAINTER, CIRCA 440-435 B.C. The obverse with Dionysos and his entourage dispersed within a landscape setting, the god above right clad in a chiton and himation, a wreath in his hair, a thyrsos in his right hand, his head angled down towards a maenad at the bottom right wearing a peplos, a kantharos held straight up above her head in her left hand, an oinochoe in her lower right, to the left a satyr reaching up with both hands towards a maenad, a thyrsos in her right hand, an animal skin draped over her left, and a second satyr sitting at the bottom left, his hands on his raised left knee; the reverse with a satyr pursuing a maenad to the left, the maenad holding a torch out in front, her head turned back toward her pursuer; both scenes with a band of meander below, ovolo above 9 1/16 in. (23 cm.) high
Provenance
Ancient Greek Vases, Formerly in the Collection of Dr. Elie Borowski; Christie's, New York, 12 June 2000, lot 105.

Literature
J. Oakley, The Phiale Painter, Mainz, 1990, no. 57bis, p. 96.