Lot Content
Global notice
COVID-19 Important notice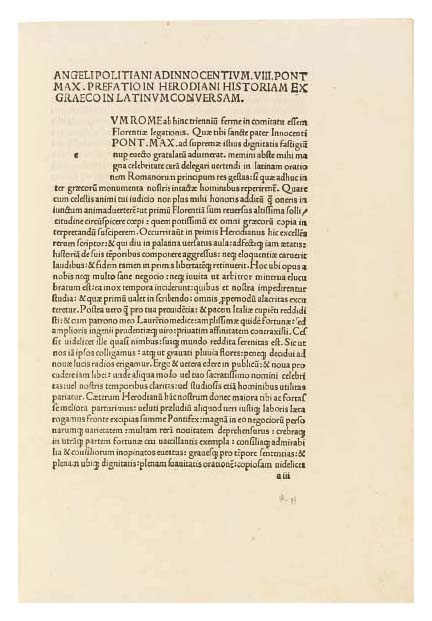 HERODIANUS, Aelius (early 3rd century). Historia de imperio post Marcum. Translated from the Greek by Angelus Politianus (1454-94). Rome: [eponymous press], 20 June 1493. Collation: a8 b-h6 i4. 54 leaves. [Bound second with:]
Details
HERODIANUS, Aelius (early 3rd century). Historia de imperio post Marcum. Translated from the Greek by Angelus Politianus (1454-94). Rome: [eponymous press], 20 June 1493. Collation: a8 b-h6 i4. 54 leaves. [Bound second with:]

CASSIUS DIO (c.164-c.230). Vitae Nervae et Traiani imperatorum. Translated from the Greek by Bonifacius Bembus (d.1498). [Rome: printer of Herodianus, not before 7 August 1493]. Collation: a8. 8 leaves.

2 works in one, chancery 2° (264 x 190mm). 36/38-39 lines. Type: 1:100R. Initial spaces with guide-letter. Late 19th-century half calf (minor wear at extremities). Provenance: a few contemporary marginal annotations washed.

FIRST EDITION OF BOTH WORKS, and the only two books printed at this eponymous press. 'Herodian [is] one of only two historians who were contemporary writers of the turbulent period in the Roman empire following the death of Marcus Aurelius and whose work has survived to the present day. ... So by any account Herodian's History is an important document' (Whittaker). Cassius Dio, a Roman consul whose work survives in fragmentary form, is 'one of the great historians of antiquity' (Lendering). His work is especially important as a source for the life of Trajan, and it opens with inscriptions from Trajan's statue and column. RARE ON THE MARKET; only one complete copy of either work has been sold at auction in over 35 years. Herodianus: HC 8466=8465; GW 12318; BMC IV, 137 (IB.19353); CIBN H-51; BSB-Ink. H-117; Bod-inc. H-51; Goff H-85. Cassius: CR 1985; GW 6168; BMC IV, 138 (IB.19353); BSB-Ink. C-174; Bod-inc. C-108; Goff C-243.

Brought to you by
More from

Valuable Printed Books and Manuscripts