About our Services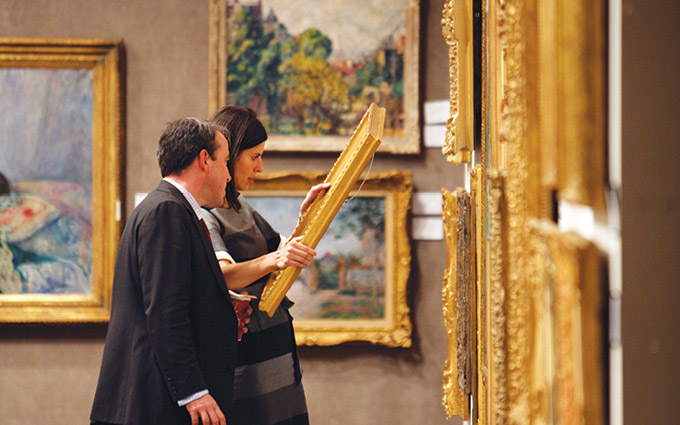 The Estates, Appraisals & Valuations Department can provide all the services needed to proactively or reactively manage collections, and manage the transition of such collections from generation to generation. Our clients, whether private individuals, corporate or professional advisers, are responsible for the entire contents of numerous historic family homes, extensive corporate collections, or discrete collections assembled by connoisseurs. Estates, Appraisals & Valuations provides a single contact, the Account Manager, to guide clients through the valuation process and to offer them access to global specialist expertise of Christie's.
Auction Estimates
Christie's is able to react swiftly to prospective sale valuations, ranging from a few select works of art to large collections spanning multiple properties and art categories. We advise how best to offer the works for sale in order to achieve the highest returns, and provide you with specialist service and guidance throughout the sale process.
Appraisals - Americas
Christie's provides authoritative appraisals of the highest standard for fine and applied arts, and many collecting categories. We are able to offer a highly efficient service taking into account a client's requirements. Christie's U.S. Estates, Appraisals & Valuations department issues appraisals for the following purposes:
• Charitable Donation
• Establish Cost Basis
• Estate Planning
• Estate Tax
• Financial Planning
• Gift Tax
• Insurance
• Loan Collateral
Appraisals & the Internal Revenue Service (US)
Estates, Appraisals & Valuations in the US has extensive experience providing appraisals that appear before the Art Advisory Panel of the Internal Revenue Service. Christie's appraisals meet IRS standards and are in accordance with the industry's generally accepted appraisal practices. Each year we provide hundreds of appraisals for IRS related purposes.
Art Tax & Heritage Advice (UK)
Estates, Appraisals & Valuations in the UK work closely in conjunction with Christie's Heritage & Taxation department to provide tax related valuations including tax planning and for inheritance tax purposes. The department has a wealth of expertise in dealing with professional advisors, executors, and private clients to ensure accurate and efficient tax advice is offered.
Collection Management
Christie's appraisals and valuations may be easily transferred and managed on
Collectrium
, the leading collection management platform that is the digital standard for the global art industry. Collectrium is the only platform to integrate all collection-care and management tools in a single experience that is comprehensive, engaging, mobile, and secure.
Removal & Storage
Where appropriate, Estates, Appraisals & Valuations Account Managers can oversee the arrangements for any insurance, packing and shipping. We also provide complimentary storage for property awaiting sale with Christie's. For any property not suitable for sale at Christie's we arrange for competitive bids from regional firms ensuring a full and efficient solution for estates.