Christie's celebrates Asian art
Event date

15 - 30 March

Event location

New York
Translate
Translate this page
Christie's Asian Art Week New York achieved a total of $69,671,472 with 83% sold by lot and 160% hammer above low estimate. There was global participation with bidders from 33 countries across six continents. During the week three records were achieved and eleven lots exceeded $1 million across all sales.
The top lot of Asian Art Week New York was an important and very rare inlaid bronze faceted jar, fanghu, which sold for $2,760,000, more than six times above its low estimate of $400,000. Additional notable results included Gathering of Scholars at the National Library (Dokseodang), 16th Century, circa 1531, which totaled $693,000; a bronze figure of dancing Krishna, which realized $693,000; a magnificent and extremely rare imperial famille rose-enameled glass snuff bottle of the Qianlong period, which achieved $693,000; and Bhupen Khakhar's The Banyan Tree, from the prestigious collection of Mahinder and Sharad Tak, which realized $2,460,000.
Exhibitions
Asian Art Week exhibition
We look forward to welcoming you back to our Rockefeller Center galleries beginning 18 March to view the seven live and online sales of Asian Art Week. Appointments are encouraged, please find below information to book your reservation.

West Galleries – Indian, Himalayan and Southeast Asian Works of Art; South Asian Modern + Contemporary Art; South Asian Modern + Contemporary Art Online
RESERVE NOW
East Galleries – Important Japanese Art; Important Chinese Ceramics and Works of Art; Rivers and Mountains Far from the World: Important Chinese Snuff Bottles; Wang Fangyu: A Wenren in America - Non-Selling Exhibition
RESERVE NOW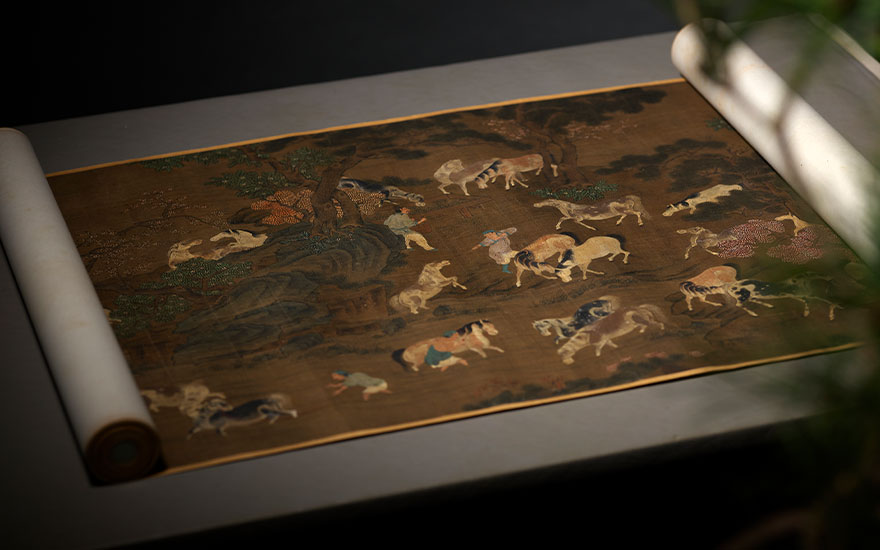 Hong Kong Spring Auctions Highlights Exhibition featuring Zhao Mengfu's Washing Horses
Related sale
Fine Chinese Classical Paintings and Calligraphy
Hong Kong, 28 May

Featured lot
PROPERTY FROM A PRIVATE COLLECTION

ZHAO MENGFU (1254-1322) AS CATALOGUED IN SHIQU BAOJI
Washing Horses
Handscroll, ink and colour on silk
37.9 x 309.4 cm.(14 ⅞ x 121 ¾ in.)

Estimate
HK$16,000,000-24,000,000
US$2,000,000-3,000,000
Special events
Exhibition | Wang Fangyu: A Wenren in America
Christie's is pleased to present Wang Fangyu: A Wenren in America, a special exhibition of paintings and calligraphy by China's foremost artists, collectors and scholars of the 20th century. The exhibition explores the rich network of artistic friendships Wang Fangyu built and cultivated over five decades – connecting cultural figures such as Zhang Daqian, Hu Shi, Lin Yutang, C. C. Wang, Yang Renkai, Qi Gong and Zhang Chonghe – that shaped the discourses on collecting and exhibiting Chinese paintings in America. Rarely-seen artworks gifted to and collected by Wang Fangyu, as well as his own art, will be featured.
Virtual events
Virtual Preview of Japanese and Korean Art Including the Collection of David and Nayda Utterberg and Important Chinese Ceramics and Works of Art
Thursday, 17 March | 5pm EST | Live via Zoom
Featuring Vicki Paloympis, Head of Sale; Michelle Cheng, Senior Specialist; Sophia Zhou, Associate Specialist; Lucy Yan, Cataloguer; Hua Zhou, Cataloguer

>REGISTER NOW

The Bottles They Carried
Sunday, 20 March | 12pm EST | Live via Zoom
Featuring Clare Chu, Chinese Snuff Bottle Curator, Dealer, Scholar and Lecturer; and Andrew Lueck, Vice President, Specialist, Asian Art, Christie's

>REGISTER NOW

Adopt, Adapt, Assimilate, and Transform: Early Chinese Buddhist Sculpture
Friday, 18 March | 1pm EST | Live via Zoom
Featuring Robert D. MowryAlan J. Dworsky Curator of Chinese Art Emeritus, Harvard Art Museums, Senior Consultant, Christie's

>REGISTER NOW