Lot Content
Global notice
COVID-19 Important notice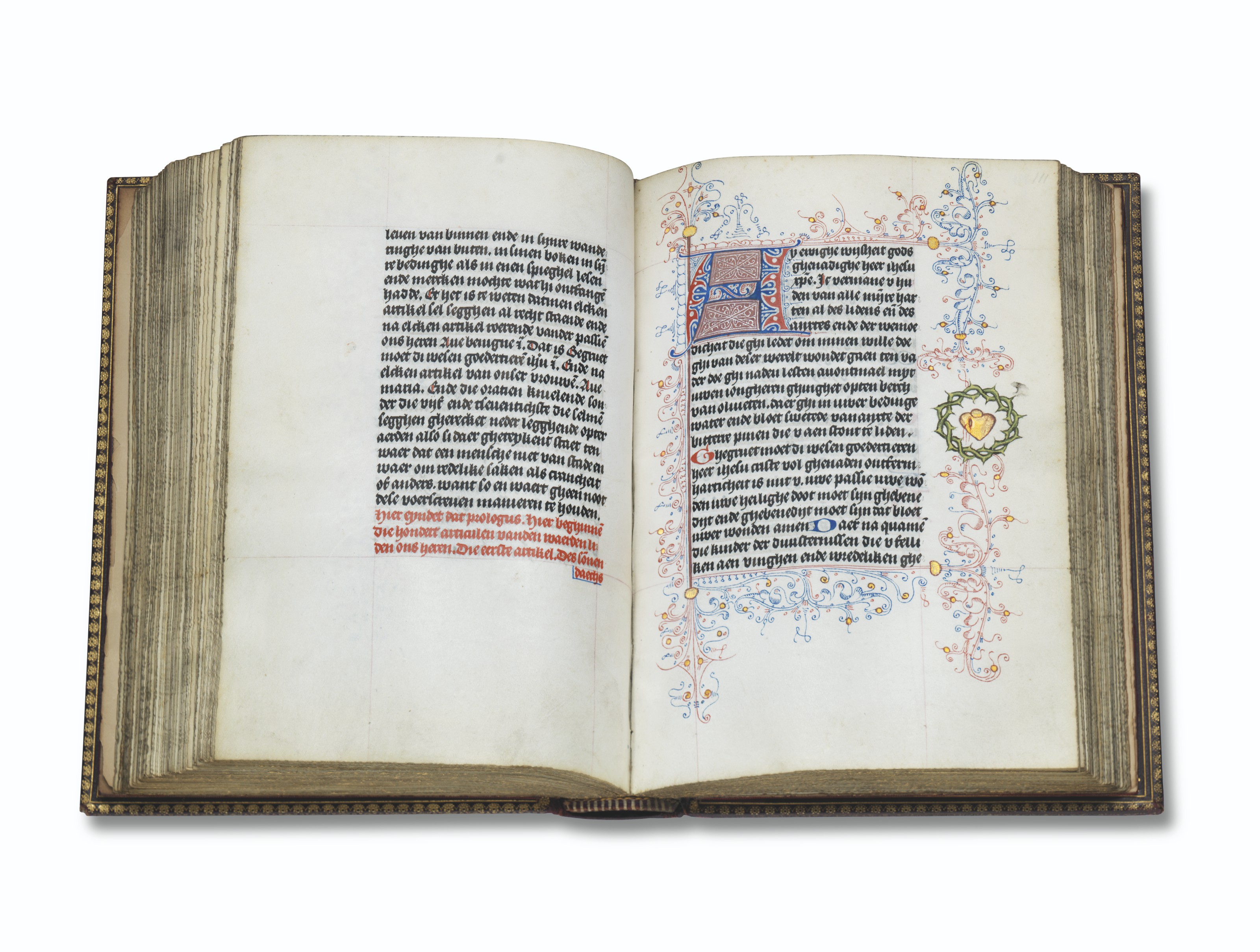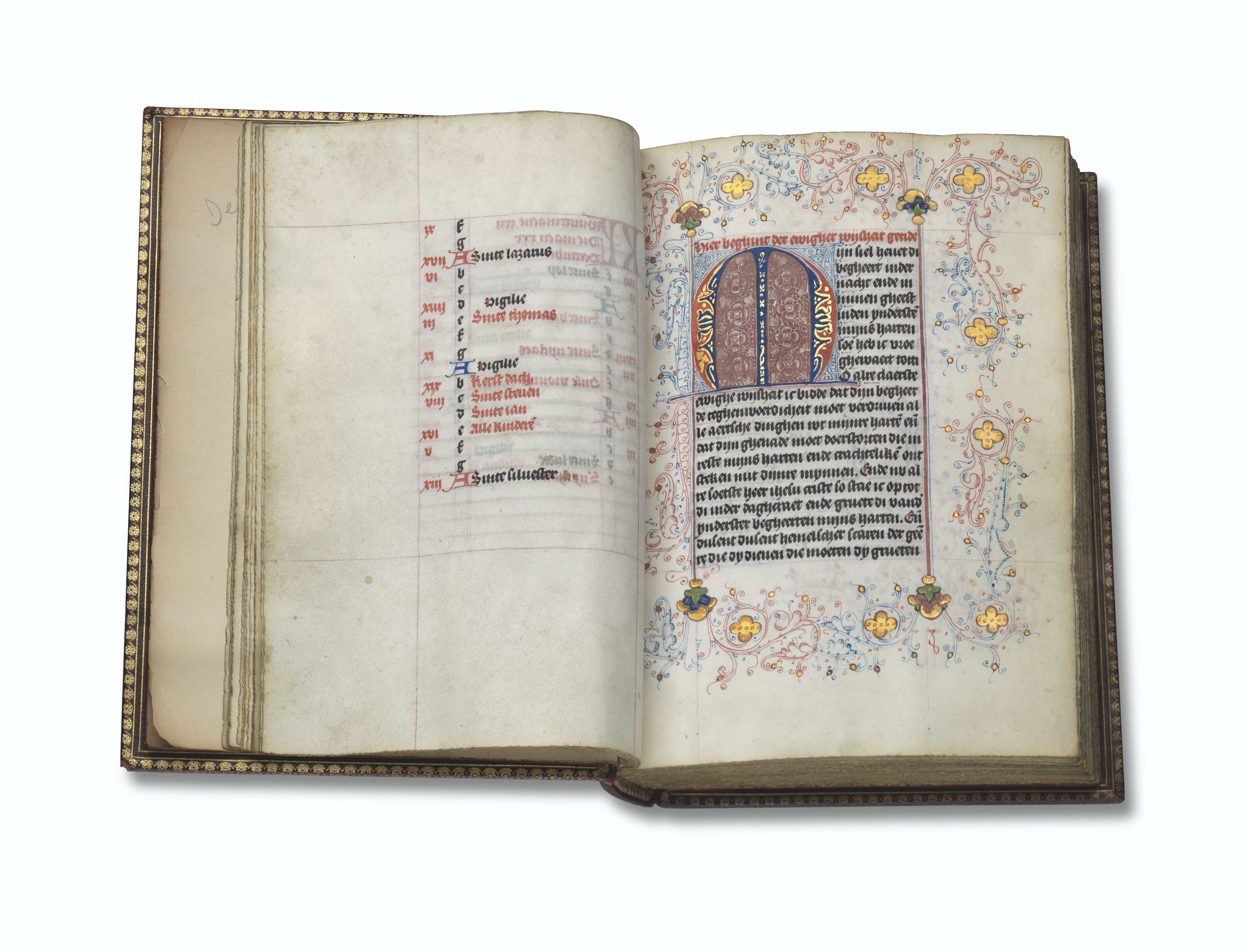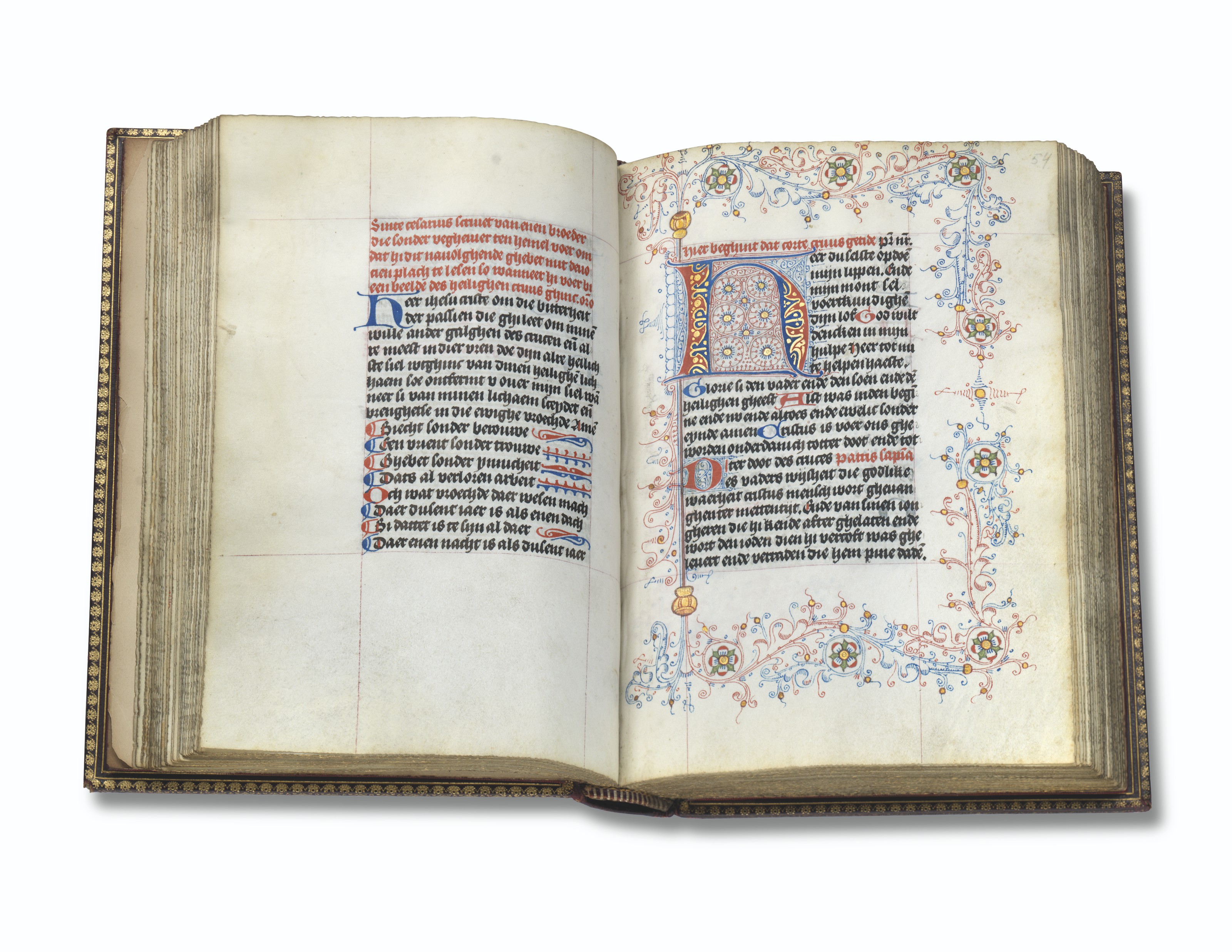 No VAT on hammer price or buyer's premium.
Delft Master
The 'Wardington Dutch Hours', in Dutch, illuminated manuscript on vellum [northern Netherlands, probably Delft, c.1450-60]
Details
Delft Master
The 'Wardington Dutch Hours', in Dutch, illuminated manuscript on vellum [northern Netherlands, probably Delft, c.1450-60]
A beautiful example of Delft 'scallop group' borders with large decorated initials in a de luxe Dutch Book of Hours with large, clean margins.

190 x 135mm. iii + 195 + iii, apparently complete, bound too tightly to collate, modern pencil foliation followed here, 21 lines, ruled space: 100 x 67mm, rubrics in red, capitals alternating red and blue throughout, 41 three- to five-line decorated initials in blue with elaborate penwork infill and marginal extenders in red and blue often incorporating flowers and gold bezants, seven large decorated initials with full penwork borders in red, blue and occasionally green incorporating gold flowers, a bird and a heart within a crown of thorns. 19th-century red morocco gilt, the exterior in compartments surrounding a central cabouchon, interior edge panels, red silk doublures, gilt and gauufered edges, signed by Waters of Newcastle (cf. British Library C188a49 for another example of de luxe work).

Provenance: (1) Most probably written and illuminated in a religious community in Delft for a local secular patron: this localisation is made on the basis of the decorative style, as the Calendar is somewhat empty, with only St Agnes among the saints in red that would be expected of a calendar of Utrecht or Delft, and the Litany featuring a relatively small number of saints venerated across the Netherlands. The high quality of the workmanship suggests that this was a de luxe commission for a wealthy owner. (2) Isaac Meulman (1807-1868), Amsterdam sugar merchant and book collector: his sale, Amsterdam, Muller and Nijhoff, 22 November 1869, lot 2609. The catalogue description of a Dutch Book of Hours of 195 leaves in 'perfect condition' matches our manuscript; it was at that time in an 'old wooden binding'. (3) John William Beaumont Pease, 1st Baron Wardington (1869-1950), British banker: his lithographic armorial bookplate with family motto 'Pax et Spes' pasted inside upper cover. (4) Christopher Henry Beaumont Pease, 2nd Baron Wardington (1924-2005): his leather bookplate with motto, crown, and the initials 'HB' in gilt pasted inside lower cover. Presumably sold from the library at Wardington Hall in the late 20th century.

Content: Calendar ff.1-12; Hours of the Eternal Wisdom ff.13-31; Hours of the Holy Spirit ff.32-53; Short Hours of the Cross ff.54-61; Hours of the Virgin ff.62-93; Penitential Psalms and Litany ff.94-109; the Articles of Faith with a prologue, prayers and readings for days of the week ff.109v-158; Office of the Dead ff.159-194; blank f.195.

Decoration: The pen-flourished borders belong to the so-called 'scallop group', a style of border decoration practised by artists working in the religious houses of Delft from the 1430s onwards; the illuminator responsible for the borders and numerous decorated initials in our manuscript seems to be the same named by James Marrow the 'Delft Master', to whom he attributes the decoration, c.1450-60, of a Breviary in the British Library (Egerton MS. 1152; see Marrow, The Golden Age of Dutch Manuscript Painting, 1990, no 58). In the 15th century the town of Delft, together with Haarlem and Lieden, was one of the largest in Holland; conveniently located at the crossroads of trading routes, it grew to become one of the most important cities in the land with a number of religious houses in which book production flourished.

The seven large initials are found on ff.13, 32, 54, 62, 94, 111, and 159.

Special Notice

No VAT on hammer price or buyer's premium.
Brought to you by
Sophie Hopkins
Books & Manuscripts
Check the condition report or get in touch for additional information about this
Condition Report
If you wish to view the condition report of this lot, please sign in to your account.
Sign in
View condition report
More from

Valuable Books and Manuscripts